When we started SendCutSend it was with a full-blown dedication to innovation. We wanted to make online manufacturing faster, smarter, slicker and better. And we wanted to pass those advantages along to generations of entrepreneurs, makers, fabricators and tinkerers.
The first thing we tackled was an ambitious software project we affectionately called "The Pizza Tracker."
Now, you might be asking pizza and metal cutting? Really? How do those fit together? And the answer is they don't (except at the occasional SendCutSend lunch). Project Pizza Tracker was simply our code word for the first foundational software innovation that would make our laser cutting service lightning quick, completely transparent, and create an instant quoting and delivery system that was accurate and adaptable. It was wholly and unabashedly inspired by Domino's Pizza, and their early delivery tracking technology (in idea only). And, even though we don't like to brag, we think we may have upped the ante with some pretty cool online laser cutting code and logistics innovations. Pizza tracking is awesome, but laser metal-cutting tracking might take the cake. There are sparks and orders fly off the cutting table so fast that you can almost smell the burnt metal when you open the package — almost.
Project Pizza Tracker was, in many ways, a return to our roots. You see, we are software developers and problem solvers through and through. Many of the members of the SendCutSend team were integral to the growth of another major software project (top secret haha) that grew rapidly and innovated constantly. In that world we were always knee-deep in computer code, pushing our software platform to unlock the full potential of the platform. Having a team that was equally adept in the worlds of complex computer code and metal-cutting manufacturing made a huge difference in this process.
Hurdles
These ambitious projects never go smoothly.
The first problem we had to solve was that all off-the-shelf ordering and tracking software works off of SKUs — those barcodes affixed to every product and food item on the planet. But, custom laser cut metal parts have no SKUs. So we had to build a system that tracked and inventoried raw metal products without these identifiers. We soon learned why you don't see these types of systems created for made-to-order manufacturers. It's really hard.
While we can't give away how we solved this problem — some things we have to keep close to the vest — we unlocked the full potential of ordering, inventorying and tracking thanks to some brilliant minds at SendCutSend. It was a lot of hard work, maybe a little magic, and a lot of creative problem-solving.
Once we solved the SKU problem, we were off and running.
Two in One
Project Pizza Tracker started with the idea that we needed a full-featured customer-facing app for SendCutSend. We wanted our customers to receive instant laser cutting price quotes, transparent job tracking and full delivery information in real-time. What we didn't expect was that in creating that software, we'd have a powerful optimization machine for every internal process we conduct.
As we began ingesting all of this operational data, we began seeing exactly where we could eke out efficiencies, create quicker turn times and think ahead even further.
This is where the real value came into being. We could order material automatically and instantaneously. We could analyze and fix bottlenecks in the laser-cutting process. We could even coordinate and outrun anticipated shipping delays. Paired with the visibility of FedEx delivery logistics we could foresee bad weather and schedule jobs to flex around shipping interruptions and storm impacts.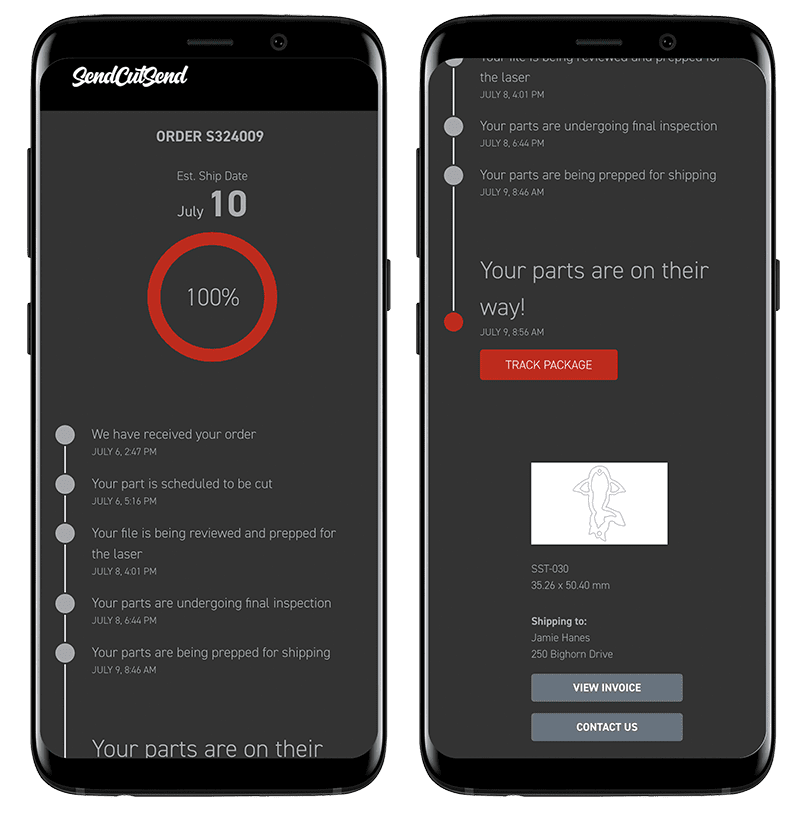 When your SendCutSend order arrives at your doorstep in what seems like an impossibly fast blink of an eye, this software is most likely the reason. Each machine is churning out the product cleaner, neater and faster than ever, while feeding those orders directly into a finely tuned delivery system. It's like having a hair trigger on an efficiency bazooka. You order and the trigger sets off a SendCutSend software chain reaction that has your metal cut, packaged and sent as fast as humanly (or should we say robotically) possible.
The Team Behind the Tech
So when you log onto SendCutSend and get an instant quote, watch as your aluminum, steel, copper or brass order is laser-cut, and then track it to your doorstep, think about the brilliant SendCutSend team behind the technology.
Jacob Graham is our miracle-working Chief Technology Officer. He has an unnatural talent for solving problems through software code, and he leads a team of driven and talented engineers who can spin solutions seemingly out of thin air. We're incredibly lucky to have him.
And Joey Andreason, our Production Director, has extensive experience in manufacturing, but comes at it from an Xbox-generation mindset. He's just as interested in making traditional manufacturing processes work flawlessly as he is in investigating where robots, computers and automation can transform manufacturing into a thing of the future.
And for all of us who worked so hard on software code that remained in the digital world even when completed, seeing our software code result in sparking, metal-cutting robots slice and dice metal is just pure satisfaction.
It just goes to show that when you start thinking about pepperoni pizza, metal-cutting robots and software all at the same time — and are surrounded by a bunch of brilliant minds — you never know what can happen.