Save and Share Your Cart
SendCutSend's "Saved Carts" feature allows you to create a cart with multiple drawings, parts and materials, and share it with others.
We'll provide you with a unique link to share, and anyone who uses the link will be able to purchase an exact copy of your cart and have it arrive at their doorstep. SendCutSend will handle shipping, customer service and payment processing.
Many customers share links to their Saved Carts on their websites and blogs, social media account, and forums.
Additionally, you can save the cart for easy reordering if you choose not to share it.
Coming Early 2021
You'll have the ability to sell Saved Cart items at a profit using markup. For example, if your cart base price is $100, you can adjust the markup for a total price of $200.
You will receive the markup, minus 10% – 25% commission to offset credit card processing, shipping, customer support and labor costs. Commission rates are based on overall sales volume. Larger volume accounts will receive reduced commission rates.
Example:
Base cart cost: $100
Your desired markup: 100%
Customer Price: $200
Commission: 10%
Profit: $90 per order
---
Saving a Cart
When you add items to your cart and save it, it will automatically appear in the Saved Carts section of your account:
Once you have completed adding items to your cart, click on the Save Cart button.
The Create Saved Cart dialog will appear and allow you to name your cart and request approval for sharing.
Please note that saving a cart will not automatically make it shareable.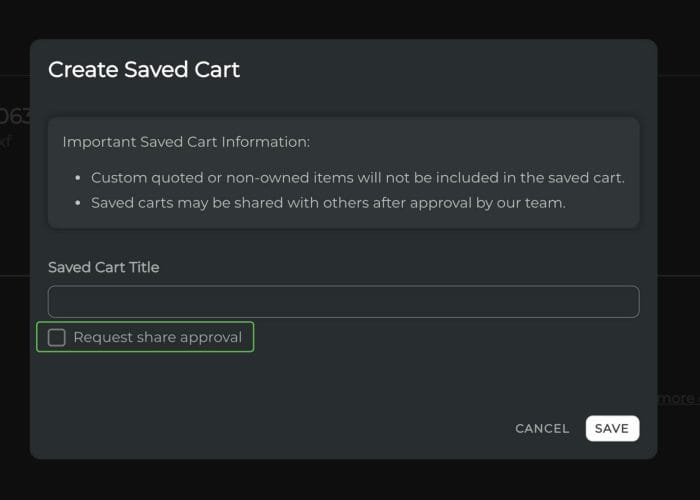 Once saved, you can review your cart in the "Saved Carts" section of your account.
To edit items in a Saved Cart, please create a new cart and save it. Editing items in an existing cart is not available at this time. Unused Saved Carts can be deleted.
---
Share a Saved Cart
If you request share approval, our team will review your cart and make sure that all the items meet our manufacturability requirements. Once approved, your Saved Cart will display a share link, and you'll also receive an email from us with the same link.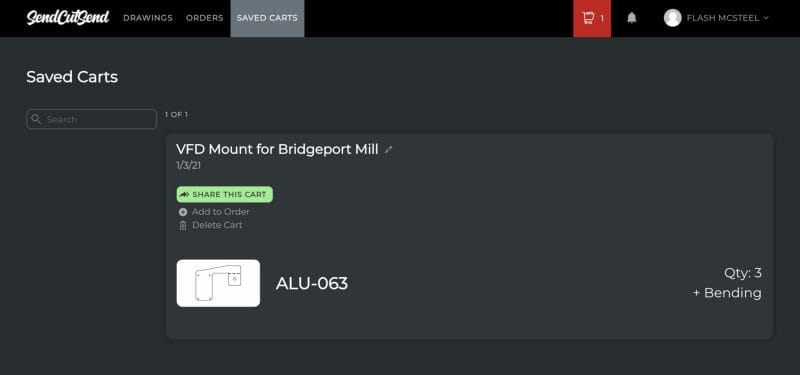 When you share the link to your Saved Cart, visitors will be able to purchase the items and have the order shipped directly to them. SendCutSend will handle shipping, customer service and payment processing.
Share your cart link on your website, blog, forum, or social media channel.
---
Saved Cart FAQs:
How do I edit a Saved Cart?
To edit items in a Saved Cart, please add items to a new cart and save it. Editing items in an existing Saved Cart is not available at this time. Unused Saved Carts can be deleted.
Can I stop sharing a Saved Cart?
Yes, you can delete the Saved Cart at anytime. Or, email our Support Team at support@sendcutsend.com
Can I edit the share link to my Saved Cart?
In certain cases this may be possible, but not guaranteed. Please email our support team for assistance – support@sendcutsend.com
Markup FAQs (Coming Early 2021):
What is markup and how do I set it up for my Shared Cart?
Markup is the amount of money you receive when you sell a Saved Cart. As the owner of the Saved Cart, you can decide exactly how much money you would like to receive for your product.
You can edit Saved Cart markup at any time by viewing the settings. Changing the "markup percentage" to any number above 0% will add markup to your Saved Cart.
Please keep in mind that pricing may fluctuate with raw materials costs. Your cart price may change slightly over time, but we'll always display the lowest possible price to your customers.
How do I get paid?
Markup is paid out via PayPal ($USD) the 1st of every month. If you do not have a PayPal account that can accept payments from the United States, we will be unable to pay your markup. Markups are paid out when the total amount, minus commission, is greater than $50.
Markup is added to your account as soon as an item has shipped. Your payout will include all markup that has been attributed by 11:59pm UTC on the 14th. If a Saved Cart is shipped on the 2nd or later, the markup will be included in the next month's payout.
If you have accrued less than $50 in markup, you will not receive a payout. Instead, your markup will remain accrued in your account until you reach the minimum payout threshold.
Configuring Payment Settings
To receive Markup payments, you'll need to complete the information requested in the "Seller Settings" section of your Account Settings. This information includes:
Billing Address
PayPal Email Address
Markup may be converted to store credit (via a gift card code) upon request. Conversion to store credit will reduce commission rates by 5%.
What happens if a customer is unsatisfied?
The SendCutSend Support Team will handle all customer service requests. If there is an issue with an order based on your design or materials selection, we will contact you and recommend solutions.
If there are recurring complaints, returns or manufacturing issues related to your Saved Cart, we will reserve the right to remove it from sale until the issue is resolved.
If a customer cancels their order before it has been manufactured, SendCutSend will refund the customer and markup will not be paid out to you.
Can I upload a popular logo, or a design I found somewhere?
You can only upload your own original work or work that you have the rights to. As a designer, you warrant that your content is your original creation and has not been copied from any other third party and/or entity. If you are not the designer, you warrant that you have the right to upload, promote, sell, transmit or otherwise distribute the content via SendCutSend.
Who owns the design copyright?
The rights of the model will always remain with you, the designer. You only give SendCutSend permission to fulfill customer orders, manufacture the product, and payout your markup.
If you publicly tag or mention SendCutSend on social media channels such as Instagram, we reserve the right to reuse the content for promotional purposes.
---
More questions?
Send us an email at support@sendcutsend.com. We're happy to answer any questions you have.