Have you noticed the Formal Quote option at checkout and want to know more? We're happy to explain how it works! Please note, this is only available to customers who have set up a free SendCutSend account.
If you have Net30/credit terms for your account, you should have received specific instructions for how to use Formal Quotes from our accounts team. Please contact support@sendcutsend.com if you're having trouble placing orders with payment terms.
Formal Quotes make it easy to send a link to your accounts payable department so they can process payment for orders online, while the order itself remains associated with your account. This allows you to remain the point of contact if there are any questions during production.
How To Create a Formal Quote
First, add all parts and services you'd like included in the Formal Quote to your shopping cart.
Proceed to the Payment step of checkout. Below the payment options, click the Create Formal Quote button.
Then, you'll see a notification that the order will not be produced until payment is received. The quote is valid for 30 days. After that, a re-quote will be required.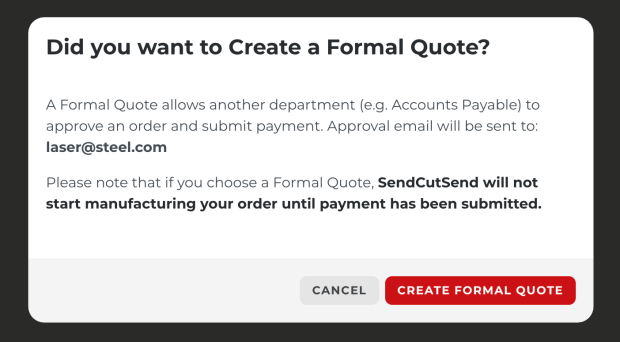 If this will work for you, click Get Formal Quote.
This generates your payment link and PDF.
You can also find the Formal Quote and its links under your Orders tab while logged into your SendCutSend account.
The quote status will be Pending until payment is submitted.
Once the Formal Quote invoice is paid, the order status will change from Pending to New, indicating that the order is moving into production!
In Summary
How do I create a Formal Quote?
Formal quotes can easily be created in the checkout process of creating your order when you have a free account. We have included a Create Formal Quote button in your shopping cart. Once your quote is created it is valid for 30 days. We will not start production on your order until payment has been received.