From furniture to RC cars to combat robot parts, there's a reason makers everywhere are turning to online laser cutting services for their custom projects: the versatility in design and materials paired with lower costs and fast turnaround times make it a superior solution on all fronts. And with services as awesome as SendCutSend's, there is a whole world of custom laser cut projects opened up to you.
We've put together a list of some of the coolest laser cut project inspiration pics we could find thanks to our awesome customers. Let's help you narrow down what you want your next project to be.
1. Laser Cut Car Parts
The list of automotive applications for laser cutting is a mile long, and we love seeing the creative solutions to automotive problems our customers come up with. This custom laser cut Jeep bumper is one of many innovative laser cut parts we have manufactured for car enthusiasts like Tim Paul. SendCutSend can also play a big part in your restorative projects. Many people have turned to us to cut parts that are no longer in production for their vintage car restoration projects.
2. Laser Cut Robotics Parts
As you might expect, most of us here at SendCutSend are big combat robotics fans. These weapon disks here are laser cut ½" AR500 for Switchback, a rookie combat robot, and its vertical drum spinner. From mini-bots to heavyweights, we cut parts for dozens of robotics teams in all shapes and sizes. And not just combat robots. We're also proud to be cutting parts for educational robotics teams as well. We've manufactured everything from weapon disks to chassis parts to heavyweight armor, and always love taking on new robotics parts challenges.
3. Laser Cut Copper Busplates and Busbars
Electrical applications are ideal for our high quality materials and state of the art laser cutting. Jacob Graham designed these laser cut copper busplates for a custom battery pack in an EV conversion. (Specifically a Delorean, which is just cool as hell.) We can help spark many of your various electrical projects to life.
4. Custom Laser Cut Furniture
We all have that weird corner in our house that no mass-made furniture will fit in. Solution? Design your own totally custom laser cut furniture. These side tables from TylerBellMakes are made with ½" laser cut aluminum and are assembled using woodworking techniques. How cool is that? Simple furniture like this is easy to design and laser cut, and it makes for a great conversation starter at your next game night.
5. Custom Chassis Parts
These RC car chassis were designed by Excalibur Customs, and this one specifically was built by his customer James. We've also cut parts for robot chassis, race car chassis, and go kart chassis. If you've got a chassis, we can probably cut custom parts for it.
We're always looking for new folks to partner with. Got a cool project in the works that SendCutSend should be a part of? Can you use CAD software? Do you have a following of people who are as excited about custom projects as we are? Tell us about it!
6. Laser Cut Switch Panels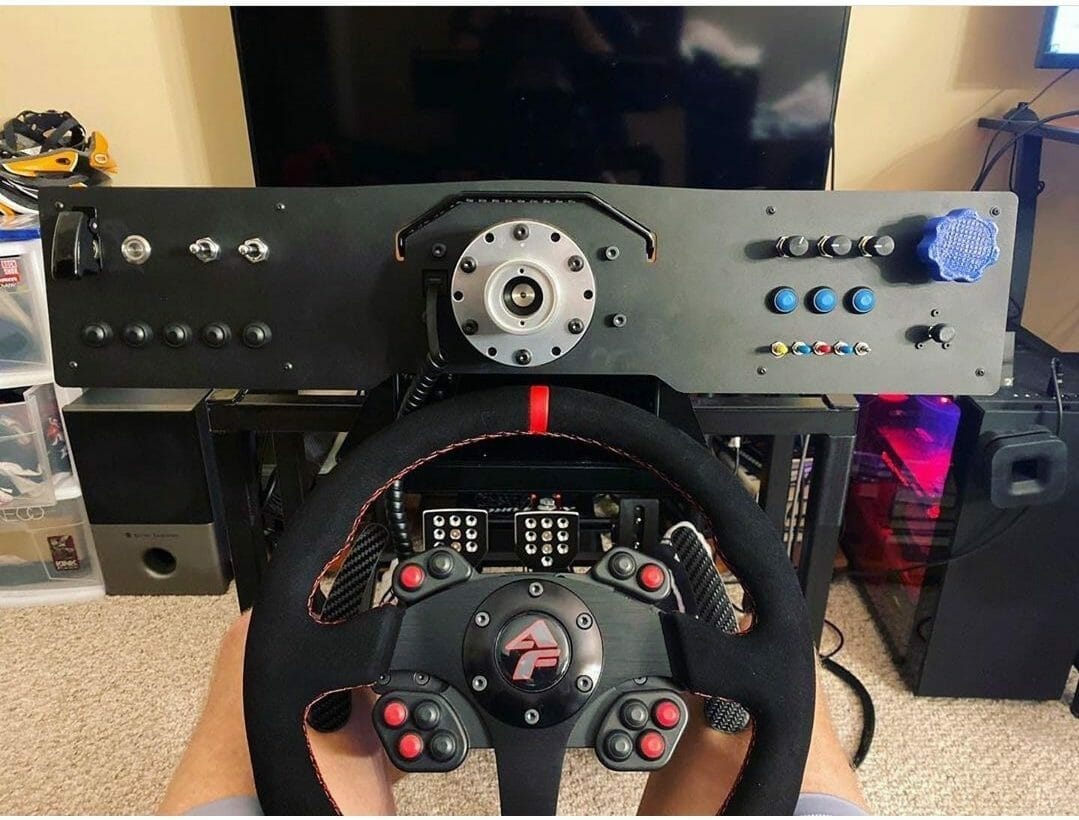 Custom laser cut switch panels have applications in dozens of fields including aerospace, automotive, and manufacturing. We also loved getting to machine this badass custom sim racing switch panel designed by Jordan. With awesome materials like carbon fiber, 6061 T6 aluminum, and 304 stainless steel, we can help you realize your most "out there" laser cut switch panel projects.
7. Dashboards and Gauge Panels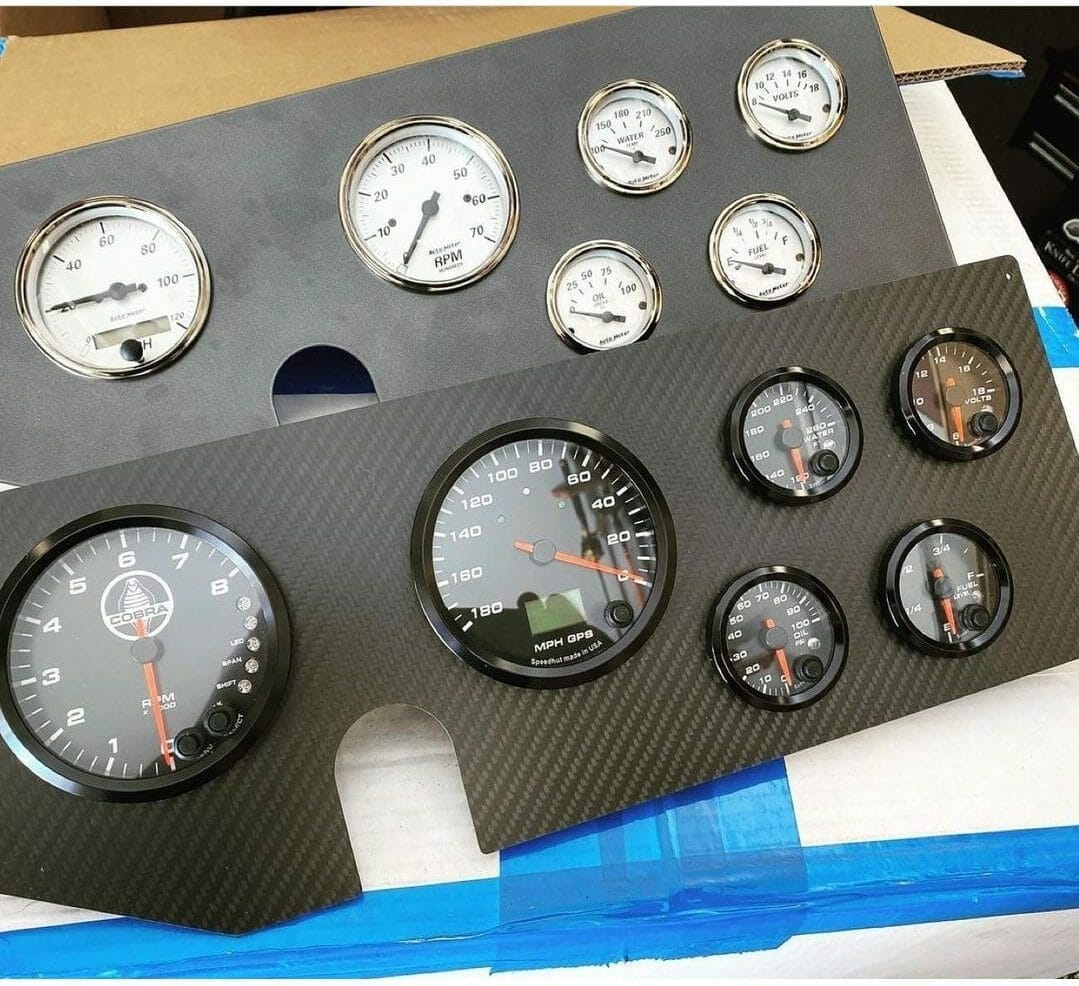 This is a custom carbon fiber dashboard for a Type 65 Coupe designed by Rob. Beyond looking great, the material and quality of our laser cutting means the dashboard is durable and perfectly suited to house the custom gauges. We've cut dashboards for all kinds of projects, and we'll cut yours to your exact specifications with tight tolerances and high quality materials.
8. Custom Battery Boxes
Regardless of what you're designing, batteries getting tossed around is the last thing you should be worrying about. Custom battery boxes are a great solution to this problem, and you don't even have to be able to weld to make them work. This simple battery box designed for a modded Honda CRX is just two laser cut aluminum plates, bolted together and mounted with rivnuts.
9. Laser Cut Motor Mounts
Custom car rebuilds and EV conversions are in our laser cut automotive parts sweet spot. So naturally, we have cut more than a few of these custom motor mounts and engine mounts. This one was sent to us by Seth Friesen of Amped Classics. Steel, titanium, and even 7075 aluminum are all great material options for motor mounts. You've just gotta pick the thickness in whichever material you want, and we'll have it to you in a matter of days!
10. Laser Cut RC Car Parts
Laser cut RC car parts have to be light, durable, and look cool as hell. We can make all of those happen. This custom RC car chassis by Jacob Vos is laser cut from aluminum and he painted it to match his sweet black 3D printed parts. Aluminum is our recommended material for most RC car parts for its durability and affordability. We also offer a few other lightweight options if you're looking to prototype your RC car before fully committing to its design.
11. Custom Laser Cut Monitor Stands
Many home office improvements were inspired by most of the country working from home, including this awesome custom monitor stand by Richie Merlo. Between our laser cutting, CNC bending, and metal tapping services, we can be your one stop shop for a monitor stand as cool as this one. We are big fans of the raw industrial look this one has, but be sure to check out our powder coating if you want a sleek, smooth finish. In fact, Richie did another monitor stand powder coated white and we think it looks cool as hell.
12. Laser Cut Suspension Mounts
Maybe not the most glamorous laser cut project, but definitely one of the most valuable. Retrofit airbag mounts can be designed to the exact needs of your car. These custom airbag mounts are a prototype to be fitted on a second generation Ford Raptor from the fine folks over at Full Travel Bags. You design it, and we'll take care of the rest.
13. Laser Cut Fender Vents
Have you noticed we're big into cars? If nothing else has convinced you that we like laser cutting car parts, check out these fender vents designed by DuSold Designs. Smartly designed with easy tabs for hand bending, these fender vents make for an easy install. Interested in designing some of your own? Check out our tutorial on designing for hand bending.
14. Laser Cut Guitar Pedals
Guitar pedals are a necessity for even the most casual of electric guitar players. So why not add a little personal flair to your home studio with custom laser cut guitar pedals? And look how cool this one designed by ElTallerPino looks. Thanks to our CNC bending and laser cutting services, it's never been easier to design your own guitar pedals. With the help of a few wiring YouTube videos, you'll be well on your way to having a rocking set up. Every guitarist's dream, right?
15. Tool organizers
We are huge fans of simple tool organization here at SendCutSend. Nothing is more frustrating than reaching for that one drill bit, only to find that it's once again been lost to the abyss behind the workbench. This easy laser cut stamping die set organizer by Scott Witthoft is a great solution to that very problem. These organizers can be functional and aesthetically pleasing, especially if you choose a copper material like the one shown here. Never again will you lose a tap in the pile of scrap metal in your shop. (It's okay. We all have that pile.)
16. Stuff That Doesn't Exist
Invent something totally new. Some of our favorite projects customers have sent to us are things that don't exist. Or at least, they didn't until these crazy folks decided to attempt them. This futuristic cassette player (oxymoron, anyone?) is laser cut from aluminum and designed to combine retro with space age. This was also designed by ElTallerPino. Or maybe you're into a steampunk vibe? This DIY camera by Jerome Kelty fits the bill. Including laser cut aluminum and titanium, the final product is a perfect blend of industrial and sleek.
What are you gonna make?
So you've got 16 ideas for laser cut project inspiration right here. Now what will you come up with? Will it be a new kind of laser cut combat robot weapon? Will it be an electric go kart with a laser cut chassis? Will it be something totally new and completely out there? Whatever it is, we're beyond excited to laser cut it.
And we want you to show it off, too! Be sure to tag us on Instagram (@sendcutsend) so we can see and share your design. We're sure you're gonna come up with cool stuff, and we want to brag about it. If you're interested in partnering with us on your upcoming SendCutSend projects, reach out through our Partner With Us form.
Send us your design and get an instant quote, or request a custom quote from our awesome application specialists. Get going on your own laser cut project today!