What if you have a complex round, oval, or conical part, but don't know what the laser cut flat pattern should look like? One of the best ways to leverage the power of a 3D CAD software like SolidWorks for laser cut parts is to utilize a feature known as "flatten." This trick works for bends, jogs, and rolled parts and allows you to design the geometry you need, then "unroll" the part.
Let's say you need to weld this cone transition onto a standard hopper:
There are several ways to make this part: buy a cone with the correct taper, then modify as-needed to weld up to the hopper, and lay out and drill the holes by hand.
Or just remove all the guesswork, reduce the fabrication time, and instead roll up a laser cut flat pattern yourself.
Ready, set, unbend!
Let's walk through the steps necessary to flatten a rolled sheet metal part in SolidWorks to prepare it for laser cutting.
Before we do that, a quick note: SendCutSend does not offer sheet metal rolling at this time, but we can laser cut flat parts for you to then roll after you receive them.
Step 1: Use "Cut-Extrude" to make a parting line in your rolled part
First, open your transition part file and make a parting line which will be the seam when rolled up.
You can use the Cut-Extrude feature:
For this example, a sketched line is being extruded through the part as a thin feature with a cut thickness of 0.01". This ensures when the final part is rolled up, it won't have a big gap at the seam.
Or, if it's a revolved part, simply reduce the revolved degrees so it leaves a small gap:
Step 2: Insert your bends
Next, you'll want to select the "Insert Bends" feature from the sheet metal toolbar.
Step 3: Highlight the seam
Under the "Bends" menu, select the inside edge from the seam to highlight it as shown in the image below.
Step 4: "Unsuppress" the auto-generated flat pattern
The final step is to take the auto-generated flat pattern and unsuppress it. This brings the flat pattern into view on the model, resuming the feature and allowing you to export correctly.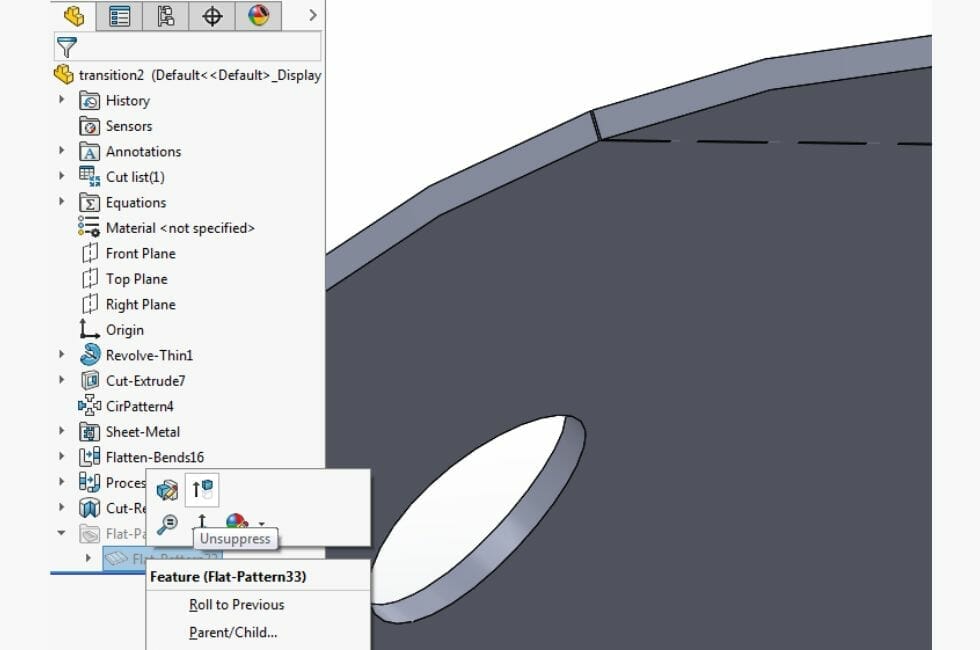 The result is a flat pattern with a bounding box which you can save as a .dxf using the instructions here.
You're ready to upload to SendCutSend's instant quote tool!
Using this method means the rolled part features can include holes, edge profiles, or other complex shapes, allowing much faster fabrication, tight fitment without any modification, and no difficult hole drilling on concave surfaces. There are lots of other handy tricks that you can use to simplify your build process and optimize your laser cut parts, so be sure to check out our other tips and tutorials.
When you are ready, upload your file to our instant quote tool, select your preferred material and quantity, and we'll ship your parts within 2-4 business days! 
Try our SolidWorks Plugin
If you are using SolidWorks 2021 or newer, check out our SolidWorks Plugin. You can upload to SendCutSend and get live quotes without ever leaving SolidWorks.