Captain America has been a staple American hero as a symbol for patriotism, justice, and truth beginning as early as WWII. More recently, he's been changing the lives of pediatric cancer patients across the nation with the help of a few of his hero friends and SendCutSend.
Sterling Bailey may have been skeptical when his friends approached him years ago about his potential for a Captain America cosplay, knowing that he had some big boots to fill if he was to take on the Steve Rogers mantle. Nevertheless, Bailey rose to the challenge and began assembling his stunningly accurate and well-crafted Captain America costume. Around the same time, Bailey heard of a Batman cosplayer traveling along the East Coast, visiting children's hospitals.
"If Batman can do it, why can't Captain America?" The Denver resident began setting up visitations at local hospitals as Captain America, making days brighter for the young pediatric cancer patients in the area. The kids were thrilled to see Captain America in their hospital room, but Bailey couldn't help but feel he could be doing more. He saw the organizations and fundraisers pushing to help families with their medical bills, but saw a gap in funding to help families with the day-to-day bills they were struggling with.
"The medical bills – which are huge, by the way – are covered for the most part, but there's no one to pay their mortgage, their phone bill, their car payment. And because the parents have to go back and forth from the hospital and sit with their kids in cancer treatment, they can't work. That's where Cap for Kids steps in."
Cap for Kids is the non-profit organization Sterling Bailey founded that raises money to assist families with things like their mortgage, phone payments, car payments, utility bills, etc. while their child is receiving care for pediatric cancer. These kinds of expenses are often pushed to the wayside in favor of taking care of the ever-increasing medical bills and families are left devastated with months of overdue payments piling on top of them. Cap for Kids gives families a $5000 budget and will pay those bills or whatever the family needs for as long as there is money in their budget. In the meantime, they send movie-level accurate characters to the kids in the hospitals to bring a little joy to their lives.
A little superhero action and some SendCutSend magic
As Bailey continued to perfect the intricate Captain America suit, he faced a few problems having never tried to machine his own parts before.
"I had never done anything like what was necessary to complete this costume. No leatherworking or metal working. I found SendCutSend just last year and it has saved so much time and effort on my part. You guys make it so easy."
Living in a small apartment at the time, Bailey knew his neighbors wouldn't appreciate his power tools running late into the night, nor did he have the space for it. He turned to SendCutSend to cut a few of the parts for the Captain America costume. The brackets shown here on the shield were cut by SendCutSend, as well as the pieces for his shoulder straps. Bailey even has a Captain America shield signed by Stan Lee which Cap for Kids uses for fundraisers!
After placing numerous orders for shield brackets and talking to our awesome support team a few times, Bailey already has a few new big ideas about what to create next.
"I mean, this could open up a lot of cosplay opportunities for us. The board members were talking and getting excited about SendCutSend like, 'Okay, what can we make next? Maybe Batarangs?' Let's do this."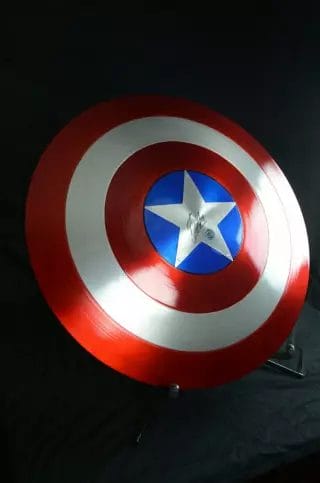 We're just as excited as Bailey and his team to see what they come up with next, because this is what SendCutSend was created for. We are here for the hobbyists and makers with a big idea and no space to make it happen. We'll help make your projects a reality.
The cosplays the Cap for Kids team put together are no joke. Cap for Kids recruits cosplayers across the nation as volunteers, assembling a team of people dedicated to their craft and the cause they are supporting through it. Depending on the character and the level of accuracy, cosplays can be anywhere from $300 to thousands of dollars for just one costume. SendCutSend is proud to be helping make these cosplays a little more affordable and attainable.
Oftentimes, cosplayers are building up their costume for years, piece by piece. The level of dedication is off the charts, but you can imagine the joy on a child's face when a Captain America virtually indistinguishable from the one they see on their screen walks through the door to their hospital room.
Thriving in the Pandemic
Like many organizations, Cap for Kids has had to adapt their operations due to the ongoing pandemic. But it hasn't stopped them from changing the lives of families impacted by pediatric cancer. In fact, Cap for Kids has grown since the beginning of the pandemic.
"We've actually raised more money during the pandemic for these families than we ever did in the years before. We're also finishing up onboarding families number 40, 41, and 42," Bailey said. And while the Cap for Kids volunteers haven't been able to go into hospitals or do one-on-one visits with kids, they're still doing video chats with them in character and participating in safe, socially distanced events for the kids to meet the characters. Below you can see an example of the kinds of videos Bailey and his team send to the kids in character.
What you can do to help
SendCutSend is thrilled to partner with organizations like Cap for Kids and see the parts we cut help make a real difference in the lives of others. You can help Cap for Kids make a difference too.
"Honestly, the number one thing we need is for people to talk about us. Tell your family, tell your friends, tell the company you work for about Cap for Kids. We are a small charity looking to grow nationally and the biggest help is just spreading our name through word of mouth."
In addition to this, Cap for Kids is in need of donations and volunteers. You can donate directly to them through their website and they guarantee that 100% of the donation made by an individual goes directly to a family in need.
Spread the word by following, liking, and sharing the Cap for Kids social media pages as well. And get some high quality superhero content as a bonus!
Are you working on a badass project using parts cut by SendCutSend? Interested in showing it off and working on some cool stuff with us? Tell us all about it in the Partner With Us form!
Follow Cap for Kids on Instagram