If you're new to ordering custom, laser-cut metal parts, there may be a million questions swirling in your head. Will your part(s) come out exactly as you envision them? How will you know the laser will interpret your design to its exact specifications?
Rest assured, whether your finished piece will be a pivotal part in your custom car build, or a sign to hang on the storefront of your business, lead-ins and micro tabs help to keep your design accurate while ensuring their safe arrival at your door.
What are Lead-ins?
A lead-in is like an on-ramp to a freeway. When laser-cutting a design from metal, the laser will need to pierce the metal to begin cutting. However, in order to preserve the integrity of your design, that first pierce will need to happen outside the lines of your geometry. This is how a lead-in is created. The metal is pierced by the laser, and then cuts a tiny line to lead-in to your actual design.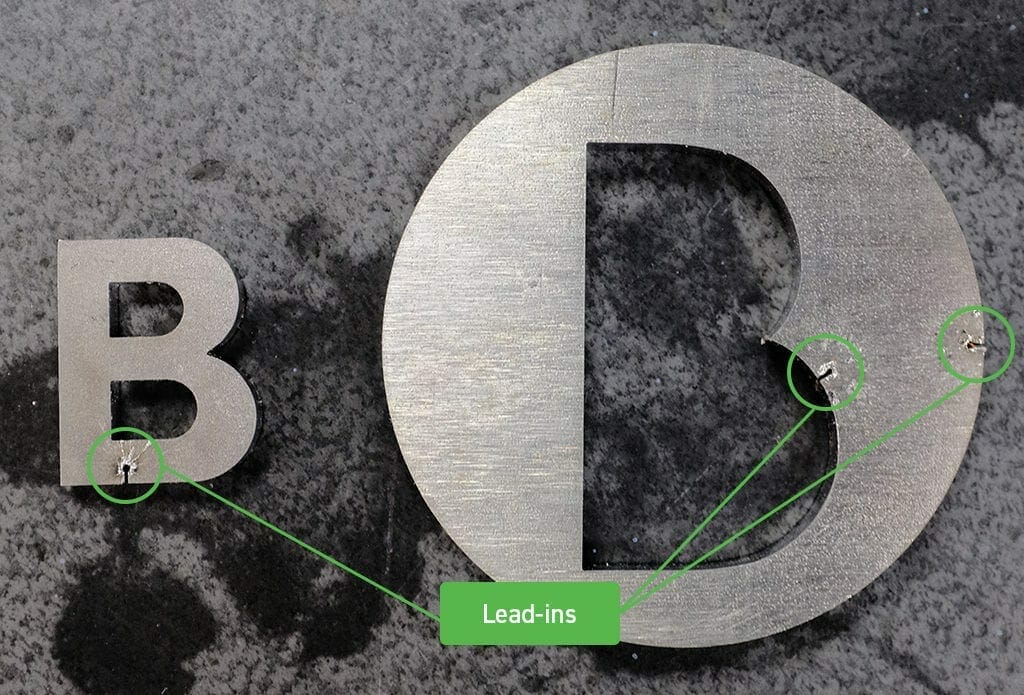 As you can see, that initial laser pierce creates a small "blow out" on the metal. You don't want that on your finished part. Lead-ins ensure that won't happen.
It's preferable you leave the nesting of your parts to us. Otherwise, if you're nesting parts yourself, lead-ins need a little space, so that's why, when sending artwork into SendCutSend, we'll ask that you keep designs 1.5x the material thickness away from each other to accommodate the laser.
What are Micro Tabs?
Micro tabs are tiny, (like, really tiny) tabs of metal that are factored into your design to keep your part(s) from falling out of their metal "nest". When the laser pierces the metal, it makes its way around the outer line of your design and then stops juuust short of connecting the dots. This is how a micro tab is created – the 0.010"- 0.015" space of metal between the unconnected dots keeps your parts within their metal nest until they're removed, which helps ensure parts aren't lost before being packaged and shipped to your door.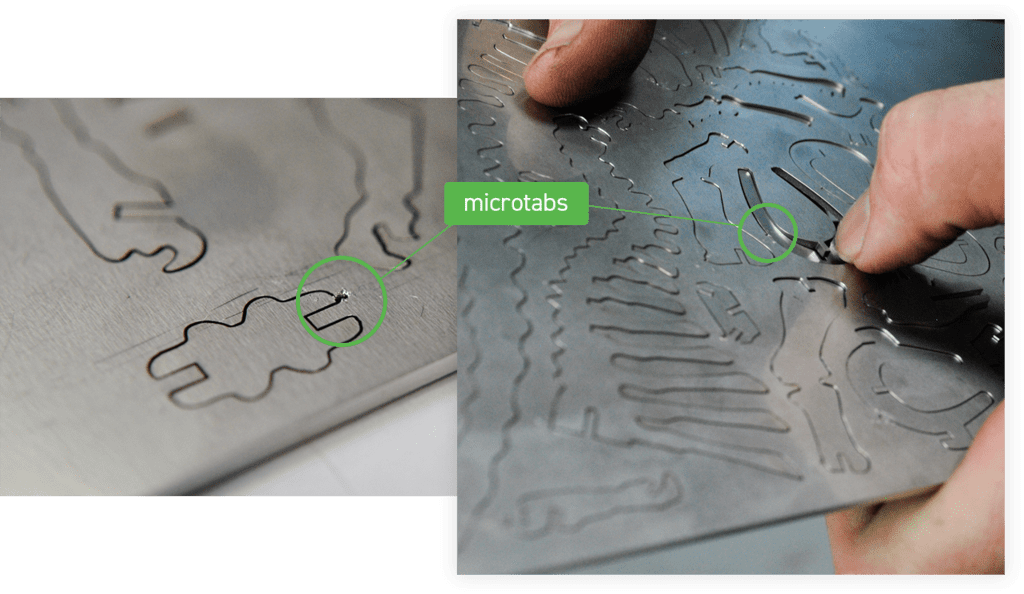 Removing micro tabs from parts couldn't be easier. Rub it with a little sand paper or metal file. The micro tab is strong enough to hold parts, but tiny enough to sand right off. Your metal parts will be left with a smooth-to-the-touch finish.
Should You Add Lead-ins and Micro Tabs to your Design?
Nope! Design your parts to the exact specifications you need and leave the rest to us. If you're ordering your custom parts from the folks at SendCutSend, their sophisticated software will add in the lead-ins and micro tabs in their most optimal spots. Now that you're up to speed on lead-ins and micro tabs, check out our blog for other tutorials and design tips. Have questions or need a custom quote? Give us a shout at support@sendcutsend.com.