Thinking about buying a CNC plasma table? How often do you need to cut metal parts, and can you batch larger runs? What are your turnaround requirements? When identifying your needs and reviewing your metal cutting options, consider outsourcing, which can be a very efficient solution.
If you do not regularly use a vendor for CNC plasma cutting, make sure you weigh the advantages and limitations of the process as it relates to your metal cutting jobs and to your customers' production requirements.
For starters, plasma CNC tables can cut thicker sheet metals than laser cutters, but plasma can only be used for cutting metal, and it cannot be used for engraving. When considering which process to use, it is imperative to consider the application. For example, a plasma cutter may leave an oxidized cut surface which in some applications, may not meet customer specifications.
Determining Your Metal Cutting Needs
In order to spec out a CNC plasma system, consider the relative precision required for current contracts, and what you anticipate for future jobs. Due to the arc of the plasma cut, there is no way to eliminate all of the bevel. Even a fine point torch can leave a gap of 1/16," visible to the naked eye and unacceptable in many industrial applications.
Laser cutting is a more precise process that cuts using a focused beam of light. The laser, also known as a thermal process, is ideal for jobs where tighter tolerances are required.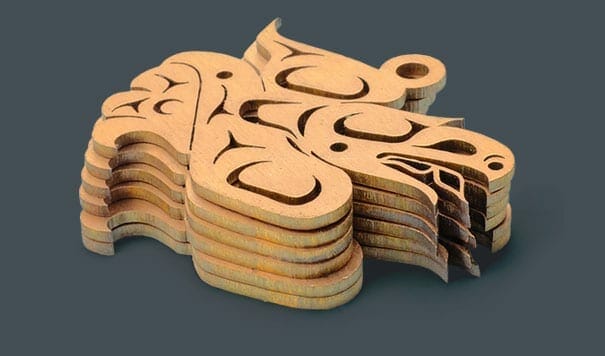 If you need to cut very thick metal on a frequent basis, or are cutting very thick metal, coated metals, ceramics, glass, marble or tile, buying a CNC plasma table might make sense.
If you are engraving those materials, however, a laser cutter might be the better tool for your needs.
Cost/Benefit Considerations: Initial Purchase
CNC plasma cutting table prices for a machine appropriate for a modest or even a small shop rarely come in under $25,000, and top out around $300,000. Used equipment may run half that, but buying used equipment can be problematic if you do not have a strong warranty in place. If you're interested in used plasma cutting equipment, get all warranty information in writing and do your due diligence to ensure consumables and replacement parts are readily available.
Many features affect cutting table prices. Chief among them are duty cycle, fume control systems, and software controls.
The duty cycle rating indicates the amount of time the arc can remain on without overheating the system. A system rated at a 30 percent duty cycle suggests it's safe to run 3 out of every 10 minutes; a 50 percent duty cycle should be able to run 5 out of 10 minutes without overheating. (And so on.) The goal is to get the maximum duty cycle you may need while staying within your budget. Obviously, if your ROI depends on high volume jobs, the higher the duty cycle, the better.
Key question to ask: What are your quantity and turnaround requirements?
The plasma cutting process generates hazardous and toxic fumes and some dust and smoke. As a result, every machine is required to have a reliable fume control system. Some manufacturers offer downdraft fume control, other models feature water table controls. Consider your shop floor configuration, HVAC system, and expected run times when determining which system may be best for you.
Software is a critical (and often overlooked) element in CNC plasma cutting systems; in fact, it's really a separate, but integrated, system. Whether you're looking at a CNC controller with a specially designed console or connecting a computer with a Windows-based software program, consider the learning curve for your operators. Many operators prefer proprietary software, written by the table manufacturer and specifically a particular machine model, but it can present a longer learning curve. Also remember to factor in time and costs associated with software updates, installation, and training, as well as recalibrating after updates installed.
Ongoing Operations: Workforce Availability, Safety Considerations, and Insurance
Calculating labor costs is never easy. If you are adding a plasma cutting table at your shop, factor in the hours that will be required to clean the dross or slag (that's the melted metal that remains on the material after it's cut) and to maintain the area around the machine.
When considering implementing an in-house CNC plasma cutting operation, don't overlook labor availability and related safety issues. As more baby boomers retire from the manufacturing sector, some markets have reported that plasma cutting experience is in short supply.

In addition to having demonstrated skill in executing a variety of cuts and gouges, some ongoing training is required for operators to maintain proper table setup and operation. Although the cost of safety equipment (eye and respiratory protection) is not prohibitive, that, along with the man-hours required to meet OSHA's safety training and documentation requirements, should be factored into your costs.
Plasma emits radiation, so operators must wear protective gear, and the table must provide proper ventilation. OSHA's welding and cutting standards and toxic and hazardous substances are here.
Depending on your existing metalworking operations, adding plasma cutting to your shop may not affect or have only minimal changes on insurance and liability costs. Of course, prior to making a purchase, you'll want to ask for a complete coverage assessment.
Determining Total Cost of Ownership
If you're considering investing in a plasma table, your initial cost analysis should include researching manufacturers for machine quality and reliability, customer service response time, servicing options and availability of replacement parts, as well as the other factors discussed above.
You can do it on the back of a napkin – but as they say, you really need to do the math!
And, that includes getting a quote from SendCutSend. Our state-of-the-art laser cutting services and 3-day shipping turnaround, available on a variety of metals including Cor-Ten, Cold-Rolled, HRP&O, and Stainless Steel, Aluminum, Brass and Titanium, is a extremely cost-effective option for many small and customer manufacturers as well as OEMs.
Need precision parts, in a hurry? Get a quote now.