At the heart of any successful business is a great product. And to get a great product, you have to start with the best equipment.
SendCutSend understands the best laser cut metal parts are going to come from a state-of-the-art, high-speed, fiber laser – so that's what they went out and got.
The ENSIS Series 3015 Fiber Laser is to laser cutting what Mike Trout is to Baseball, what the Bugatti Veyron is to fast cars, or what Oprah is to daytime talk shows. It's the best of its kind.  
But first, before we get into what the ENSIS can do, let's talk about a few of the laser cutting basics. If you're just learning about laser cutting and exploring some of your options, here's a quick introduction to some of the different methods:
Plasma Cutting
The Reader's Digest version of plasma cutting goes like this – a mixture of gases is combined with heat to create ionic, electrically conductive plasma. The plasma is then forced through a nozzle which pierces material to cut it. Plasma cutters can cut through a wide range of metals, including steel, stainless steel, brass, and copper.
Plasma cutting has been around since the 1950's. Although the technology is a bit older, plasma cutters are still widely used today. A reduction in size and price of the equipment has made plasma cutting available to the masses – chop shops, fabricators, and hobbyists can utilize this widely accessible form of cutting for their smaller jobs.
The drawbacks of plasma cutting are namely in its speed and accuracy. Although it's still a great option for smaller businesses, larger manufacturers needed faster, more accurately cut parts.
Enter laser cutting.
Laser Cutting
In the early days of laser cutting (ca.1980), lasers used in cutting were made of gas. These Co2 lasers were introduced to cut softer materials such as wood, acrylic, rubber, or even cork.
But here's the million-dollar question – what about metal parts? Co2 lasers can cut some metals, but manufacturers were really limited in the types of metals as well as thicknesses they could cut from. Soon, fiber optic lasers (a.k.a. fiber lasers) were introduced to the market and fulfilled everyone's metal-cutting needs.
Fiber optic lasers are the latest and greatest advancement to hit the laser/plasma cutting world. They cut 5x faster than Co2 lasers, are energy efficient, and require a fraction of the maintenance. The overall efficiency of running a fiber laser vs. a Co2 laser can leave you with a sizeable chunk of change to either use to buy a new boat or pass those savings along to your customers.
Here's why the ENSIS Series 3015 Fiber Laser is one of the best in the biz:
As a second generation model, this machine has been meticulously engineered to minimize its components and simplify its design. The result? A superior piece of machinery over its predecessors. Here are some of the features that put this laser in a class of its own:
Variable Beam Technology: The ENSIS laser can automatically adjust its beam based on the cut condition of the metal, no matter how thick or thin. There's no need to change out nozzles, cutting lenses, or make any other adjustments to the machine. This means faster cutting times and less wasted man power.
Simplified engine design: One module sends one laser beam directly to the cutting head. This simplified design is new technology and greatly reduces energy usage as well as machine maintenance, which helps reduce overall costs.

Innovative drive system: Unlike traditional drive systems, this drive system uses a rack and pinion system for the x and y axis and a high-precision ball screw for the z axis. This results is higher acceleration for faster cutting. How fast? 2,200" inches per minute!
Water-assisted cutting system: To reduce waste, this system cools the material during laser cutting. The reduction in heat build-up allows for more intricately cut parts.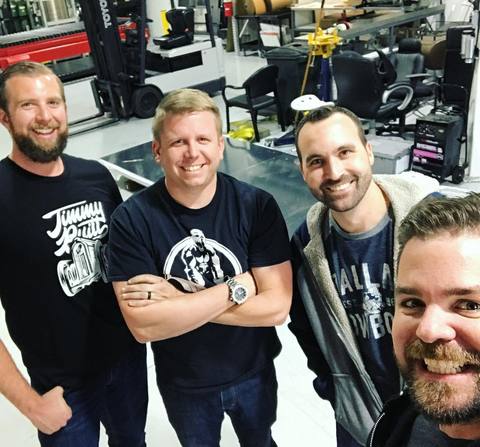 The crew at SendCutSend is proud and excited to offer this technology to large-scale manufacturers and even to smaller shops, fabricators, and hobbyists. The features of the ENSIS 3015 make for a really smooth operation, the benefits of which are passed directly to you, the customer (not to buy a new boat). The best part? SendCutSend can cut your parts, fast. Like, really fast – faster than the other guys can get you a quote.

For questions or a quote, give 'em a shout at sendcutsend.com