Sheet metal enclosures offer numerous manufacturing advantages, including faster turnaround times and reduced manufacturing costs. With proper design techniques, these enclosures can be optimized for both functionality and aesthetics. In this article, we will explore tips and best practices for designing sheet metal enclosures. By following these guidelines, you can make informed decisions and achieve high-quality results. SendCutSend's expertise in cutting, bending and finishing makes them an ideal partner for realizing your sheet metal enclosure designs.
8 Tips for Sheet Metal Enclosures Design
Designing an effective sheet metal enclosure requires a little bit of planning and few considerations. By following these tips you can both design and build quality enclosures from sheet metal. If sheet metal fabrication is outside your current skill set or you don't have the time or desire, SendCutSend can assist with most of the fabrication. We've compiled a short list of tips here to consider when designing your enclosure.
1. Understand your product's functional and aesthetics requirements 
As with any design, it's a good idea to start with a set of requirements. Basically the what, where and how for what you want your enclosure to do.
Size – Presumably it will enclose some type of components. How will these components be laid out? Are you housing a simple PCB or will you be enclosing an array of rack mounted electronics?
Features – How will the components be secured to the enclosure? This might require mounting features such as holes, slots, tabs or maybe shelves. It's also common for enclosures to have some sort of cutouts for things like switches, lights or other controls, maybe wire or fluid tubing. How will the enclosure itself be mounted? If it's wall mounted, you might add holes, slots or tabs. Consider what, if anything, may need to flow in and out of the enclosure, such as power, data, heat, air, etc.
Access – Will the components need to be accessed regularly, requiring an opening, a door or possibly a removable panel? Will you need to see into the enclosure without opening it? Possibly include a window.
Strength – How rigid does your enclosure need to be? Will it need to support heavy loads? Will it be mounted to a vehicle or somewhere where shock and vibration may be a factor?
Ventilation – Do your components require ventilation or cooling/heating of any kind?
Environment – Where will your enclosure be used? This could require external mounting features. It could also drive things like seals or weatherstripping to keep it weather-tight. Electrical enclosures are often rated using a NEMA rating.
Aesthetics – Finally, consider how you want your enclosure to look. You may want a subtle looking enclosure to blend in or you may want your enclosure to showcase what's inside. There's no reason an enclosure can't be functional and attractive.
2. Figure out the desired material for your sheet metal enclosures
Your requirements should help you decide what material (or multiple materials) to build your enclosure from. Each will have a set of advantages and disadvantages. We've listed materials here that can be bent, but you could extend your list of materials greatly by joining the walls of your enclosure by other methods such as welding, adhesives, fasteners, etc. You should also keep in mind that depending on the cut method, cut sheet metal can leave sharp jagged edges, so take care in cutting and handling. Laser cutting is an excellent method for cutting sheet metal as it leaves clean edges.
Steel – Carbon steel is a strong, low-cost choice. It will need to be finished in some way for corrosion protection. Zinc plating and powder coating are excellent options. Galvanized steel is lso available from SendCutSend. For a slightly higher cost but significantly more strength, consider 4130 Chromoly.
Aluminum – Aluminum provides a natural corrosion resistance or it can be anodized or powder coated for additional protection and the desired look. Aluminum is also lighter than steel for similar thicknesses. Aluminum is softer than steel, so it may be slightly less durable in high-wear applications. SendCutSend offers Type III anodizing, which provides a harder surface for more wear resistance. Aluminum can work well as a heat sink since it conducts heat very well. This may be useful if your enclosure houses anything needing cooling.
Stainless Steel – With excellent corrosion protection, stainless offers all the benefits of steel without needing to be protected. It can be more expensive than steel.
Titanium – Used in aerospace applications, titanium is a high performing choice offering high strength, low weight and excellent corrosion resistance. The benefits of titanium come at a higher cost.
Copper/Brass – Both copper and brass offer a unique decorative aesthetic. They may not offer the same strength as the other materials listed here, but should be plenty strong in the right applications. Copper is also significantly more conductive electrically and thermally than the other materials listed here, which could be useful for certain applications.
Bonus Polycarbonate – While polycarbonate isn't a sheet metal, it could be an excellent material for an enclosure or even just as a window in an enclosure. It can be bent, offers relatively good strength, is optically clear and has great corrosion resistance. Polycarbonate would be an excellent material for a display case type of enclosure.
3. Choose the right shape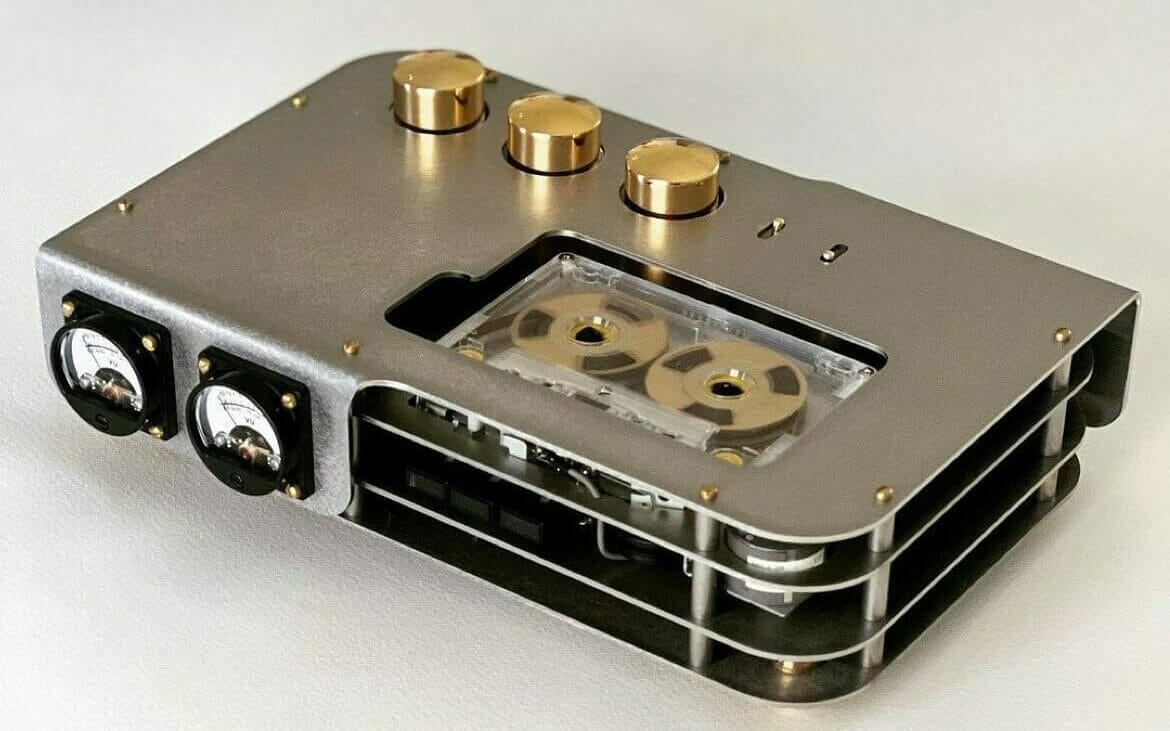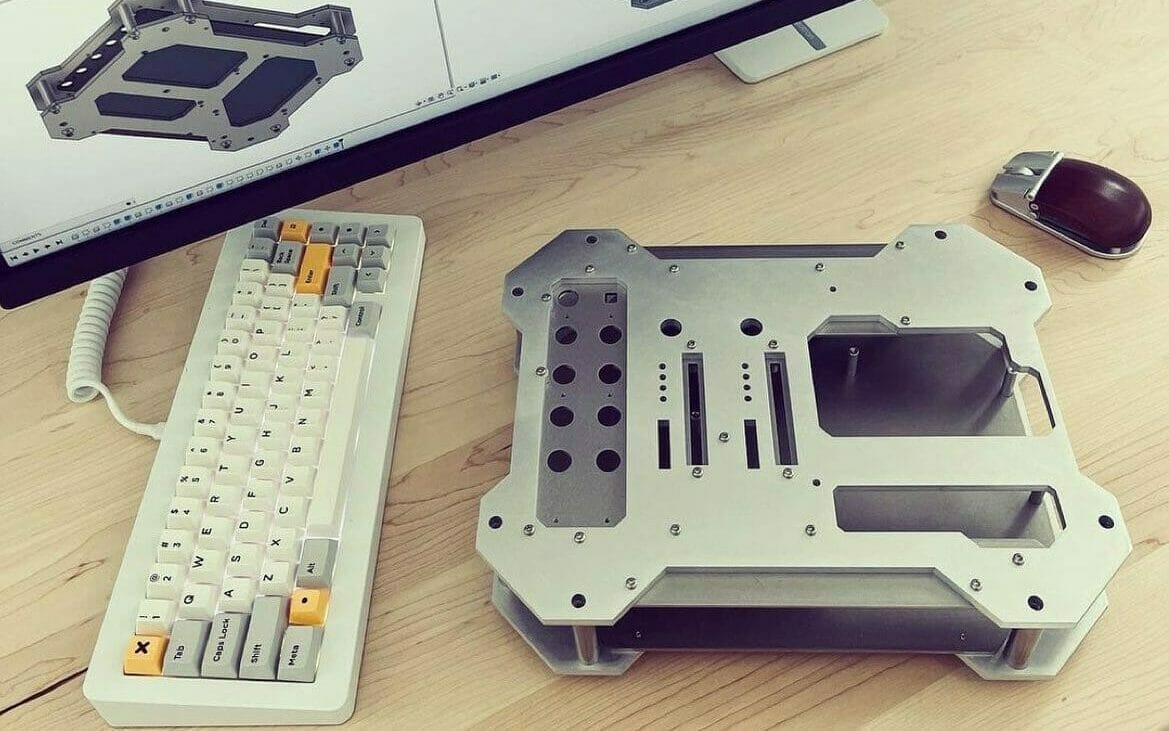 Rectangular boxes are a fairly common shape for sheet metal enclosures, but other shapes can be used to best suit your needs. Shape could be driven by functionality, ease of manufacturing, space available or even purely aesthetics.
Display cases especially offer a great opportunity for uniquely shaped enclosures. Fluid tanks will often have a unique shape to direct fluid to a specific point, either a drain or a pickup point.
Manufacturing or fabrication of the enclosure itself may be the biggest driver of shape. Using bent panels can reduce the number of parts and joints. Short flanges on the edges of panels can give a convenient place for adhesive, weld or fasteners. SendCutSend's hardware installation can be a great way to hold parts of sheet metal enclosures together.
4. Determine sheet metal gauge and thickness 
A critical factor in building anything from sheet metal is determining the thickness of material to use. Strength, stiffness and weight are all clearly influenced by material thickness. Thicker material may provide increased strength and stiffness, but with the trade-off of weight and cost. Another important trait driven by thickness is the bend radius, which we'll cover shortly.
5. Take dimensional tolerances into consideration
Accurate feature size and placement will affect the final fit and finish of your enclosure. When designing your enclosure, consider the tolerances on the manufacturing processes you'll use. Consult with our guidelines page for details on the tolerances achievable using SendCutSend services.
6. Mind the bend radius
It's common for sheet metal enclosures to be fabricated using bends. Your design will need to factor in the radius of those bends. Pay particular attention to the proximity of features near bends as they can become distorted if they're too close.
If you're having SendCutSend bend the parts for you, all of the information you'll need, such as bend radius, k-factor, etc. for each of our bendable materials is available on the materials pages. Each material, thickness and machine used to form it will result in a unique bend geometry, so it's important that your design accurately reflects that to get your bends and surrounding features in the correct relative positions.
For even more information on bending, we've put together a whole playlist of videos about bending. You can check it out here.
7. Decide how the enclosure will be assembled
Sheet metal parts can be assembled in multiple ways. Welding is a good choice when the enclosure needs to be sealed well, either to keep weather out or fluids in. Welding seams also allows for them to be ground smooth for a seamless appearance.
Rivets are a common option for securing sheet metal panels together. They only require a series of matching holes through each panel. This also makes alignment of panels easy.
Threaded fasteners can be used, either sheet metal screws, nuts and bolts, or PEM fasteners. Sheet metal screws are quick and dirty, but aren't a good choice if disassembly and reassembly is likely to happen. They can also leave sharp protrusions. Nuts and bolts require tool access from both sides to tighten. PEM fasteners can be a little more work to install, but once installed provide a convenient way to assemble sheet metal parts. If you'd like to use PEM hardware, but don't want the hassle of installing it yourself, parts ordered from SendCutSend can be ordered with PEM fasteners installed.
8. Consider how you want to finish your product
Whether it's for corrosion protection, wear resistance or just a beautiful finished appearance, the finish on your enclosure is another design consideration. One option is to select a material that can be finished mechanically. Aluminum, stainless steel, copper and brass can look good polished or brushed.
For some enclosures you may want a protective finish. Powder coating is a durable finish for nearly any material. For steel, zinc plating provides excellent protection and is available in multiple colors. Aluminum can be anodized, which is both aesthetic and protective. Type III anodize provides an even more durable finish. All of these are available from SendCutSend to make fabricating your enclosure easier.
Why Should You Use Sheet Metal Enclosures?
Sheet metal enclosures are used in a wide range of applications. They can be used to protect electrical components, display collectibles and even contain fluids on a vehicle. Commercial enclosures are available in sheet metal, castings, extrusions and even plastic. Few of those offer all the advantages of making an enclosure from sheet metal.
Sheet metal is cost-effective, lightweight and generally simple to fabricate. With a little forethought, sheet metal enclosures can be designed in nearly any shape and size. Making your own enclosure allows you to include any and all features you may need for your application, such as windows, switches, ports, drains, doors, locks, etc.
Mastering Your Sheet Metal Enclosures Design
Mastering sheet metal enclosure design requires careful consideration of functional requirements, material selection, shape, thickness, tolerances, bend radii, and finishing options. By following the tips and best practices outlined in this article, you can optimize your designs for quality, efficiency, and aesthetic appeal.SendCutSend's expertise in sheet metal fabrication, including cutting, bending, hardware installation and finishing, ensures premium results for your projects. Our commitment to delivering high-quality parts and exceptional customer service makes us an ideal partner for realizing your sheet metal enclosure designs. Contact us to leverage our capabilities for your sheet metal enclosure projects.