Getting started with SendCutSend using our instant quote tool is simple and fast. We've made ordering custom laser cut and waterjet cut parts easy, so watch the video guide and follow along with the article below to learn how to order SendCutSend parts in less than 5 minutes!
Video guide to ordering custom parts from SendCutSend
Step 1: Get an instant quote
Head to www.sendcutsend.com and select "Get an Instant Quote."
Step 2: Upload your file
Drag and drop or select your part files. We accept DXF, DWG, EPS, and .AI Adobe Illustrator files. Check out our Parts Builder if you don't have a file and make a simple design easily; no CAD experience required!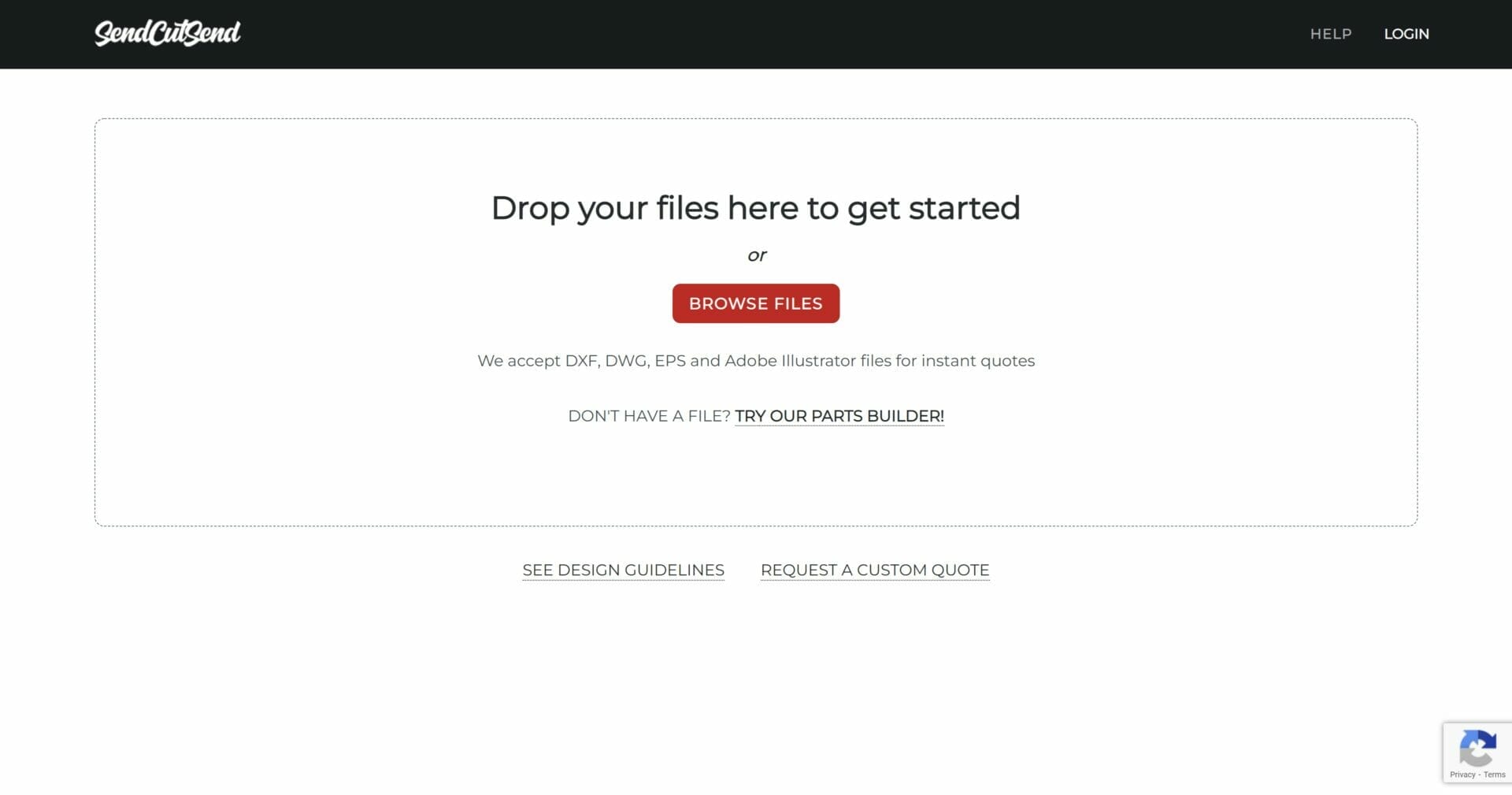 Step 3: Confirm measurements
Confirm your drawing's measurements are correct. If not, select the desired unit type: inches or millimeters. Make sure these measurements match the measurements in your uploaded file.
Step 4: Choose your materials
Select Next, and choose your material category, such as Metals. If you're not sure what material to choose, you can learn more about all the materials we offer and get a better understanding of which material is best for your project on our Materials Page. After defining a material, select the desired thickness.
Step 5: Select your order quantity
Define the quantity of the current part. Note the price changes based on quantities. If you're looking for a different price, go back a step and define a different material or thickness. Compare prices and quantities to find the quote that matches your budget.
For most materials, we offer free Deburring. You can also choose from Bending and Tapping as post-processing options. Check out our bending and tapping guidelines and tutorials for additional information.
Step 6: Log in and complete your order!
Once complete, select "Add to Cart" to complete your purchase. Log in if you're not already, or sign up and create your free SendCutSend account. Remember, increasing your quantity per each part will help you receive quantity discounts. You can update the quantity and watch the "Unit Price" change in real-time. If you'd like to add additional parts to this order, select "Add more drawings" and repeat the same process. Otherwise, continue to checkout by completing your Billing and Shipping information.
Ready, set, SendCutSend!
For additional resources, check out our getting started guide. Most parts will ship within 2-4 business days, with free 3-5 day shipping for standard orders to everywhere in the U.S. We also now offer shipping to Canada! 
Should you need any help along the way, reach out to our U.S.-based customer support team at support@sendcutsend.com.