When you're laser cutting 10,000 parts, you need a manufacturer that can deliver on time, in-spec, and on budget. Maybe even under budget! Our philosophy at SendCutSend is to make custom manufacturing simple and affordable.
Whether you're ordering for a small business or a Fortune 500 company that needs several hundred thousand parts, we've optimized our manufacturing process to make this a reality. There are still a few things you can do on your end to save you money on your project.
Here's how to extract the most value from your laser cut order, from file setup to taking advantage of SendCutSend discount codes.
1. Quantity Discounts and SendCutSend Order Minimums
We do not have a minimum order quantity on most processes here at SendCutSend because we want you to be able to order exactly what you need. However, if you're batch ordering parts for your business or if you're like us and appreciate having a few extra parts on hand, quantity discounts are a great way to save some money on your order.
Our quantity discounts start as soon as you add more than 1 of the same part to your order, making it easy to achieve a great discount on both small and large orders.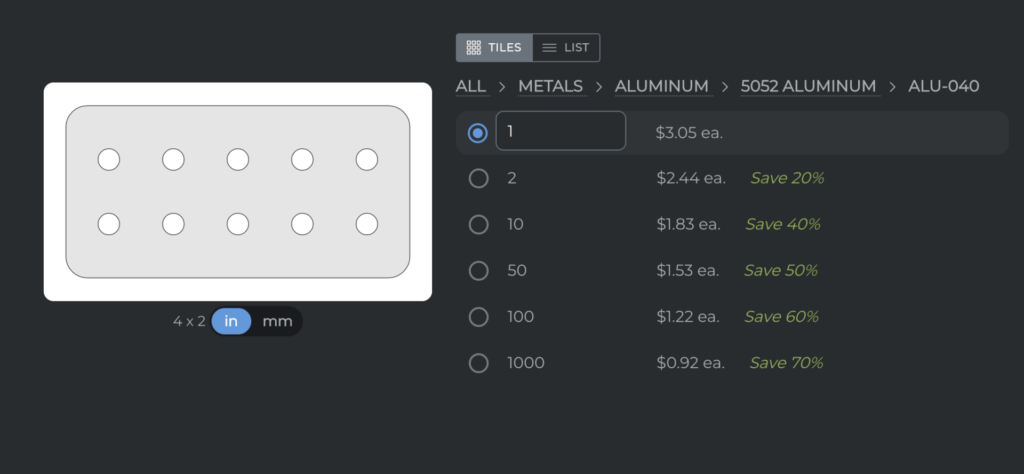 Note: quantity discounts are only applied to identical parts. Ordering 10 separate parts will not give you a quantity discount on each line item.
SendCutSend offers several awesome services beyond just our waterjet or laser cutting services. These services, such as CNC sheet metal bending, add time and additional processing to your order. For these reasons, we have a $9 minimum for bent parts to cover tooling setup and processing.
This means if you order a bent part that costs less than $9, your order total will be adjusted to reach the $9 minimum. But if you order enough bent parts that your total exceeds $9, the minimum is passed and will not be added to your order cost.
Exceeding this minimum is an easy way to save money on orders that include bending. See the table below for details:
| | | |
| --- | --- | --- |
| # of Parts | Total Cost | The Math |
| 1 | $9 | ($2 x 1 = $2 < $9) |
| 2 | $9 | ($2 x 2 = $2 < $9) |
| 10 | $10 | ($2 x 5 = $10 > $9) |
| 30 | $20 | ($2 x 10 = $20 > $9) |
All of our services have cost minimums so its important to check out our pricing page before you order.
2. Simple Laser Cut Geometry and Optimized Part Sizes
The maximum part size we offer changes depending on the material you choose, so be sure to reference our Min/Max Chart to check the maximum size available for your parts. However, how we process your part changes once it reaches a certain size, regardless of the material.
To keep order costs low, we suggest keeping all your parts smaller than 28". Many projects larger than this can be achieved by later fixturing the smaller pieces together, and doing so will save you money during the ordering process.
Inner geometry is just as important to the final cost of your parts as the outer geometry is. The cost of the part will increase as the number of laser pierces increases. If the inner geometry is particularly complicated, it will spend more time on the laser and subsequently add to the final cost of the part.
As with our other examples, the below plates are identical in overall size, material, and thickness. The only thing that has changed is the inner geometry. As the number of holes and instances where the laser has to pierce the material increases, so does the cost. This just increases the amount of time on the laser, and it makes a big difference in the final cost of your part!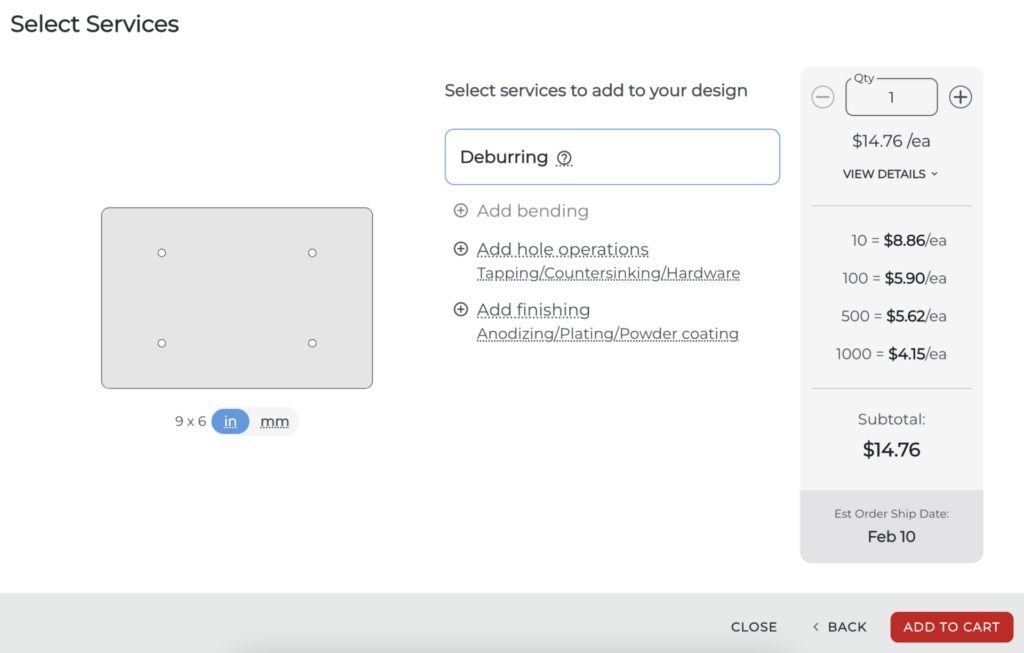 3. How to Get a SendCutSend Discount Code
The best way to get a SendCutSend discount code is through our mailing list. We frequently send out exclusive discount codes to our mailing list customers, knocking some significant costs off your order. From holidays to new service announcements, we love to come up with reasons to help you save on your order. Sometimes we send out SendCutSend discount codes just because we can. You can join our mailing list throughout our website or click here to sign up now!
4. Alternative Metals and Thicknesses
One of the biggest factors in order cost is the kind of material you select for laser cutting and its thickness.
High performance raw materials are costly but often necessary. If you have no other choice but to use those high performance materials, then a substitution is likely not possible. However, if all other attempts fail and you still need to reduce costs, you will need to consider alternative materials that will still meet your performance requirements. If you can make compromises regarding weight, strength, or corrosion resistance, there is likely a suitable and more cost effective alternative.
Take a look at the example below with a sprocket designed using SendCutSend's parts builder. The two sprockets are nearly identical, with the same pitch, number of teeth, and radius. The thickness varies by only 0.003" (0.1mm). The one change between the parts is the material. One of the sprockets is 0.063" Grade 5 Titanium, and the other is 0.060" 304 Stainless Steel. The difference is $12.84 per part. In this case, Grade 5 Titanium was chosen for aesthetics and deformation resistance. Since stainless steel is more affordable and more deformation resistant than titanium, the adjustment is fitting and will not compromise the integrity of the final product.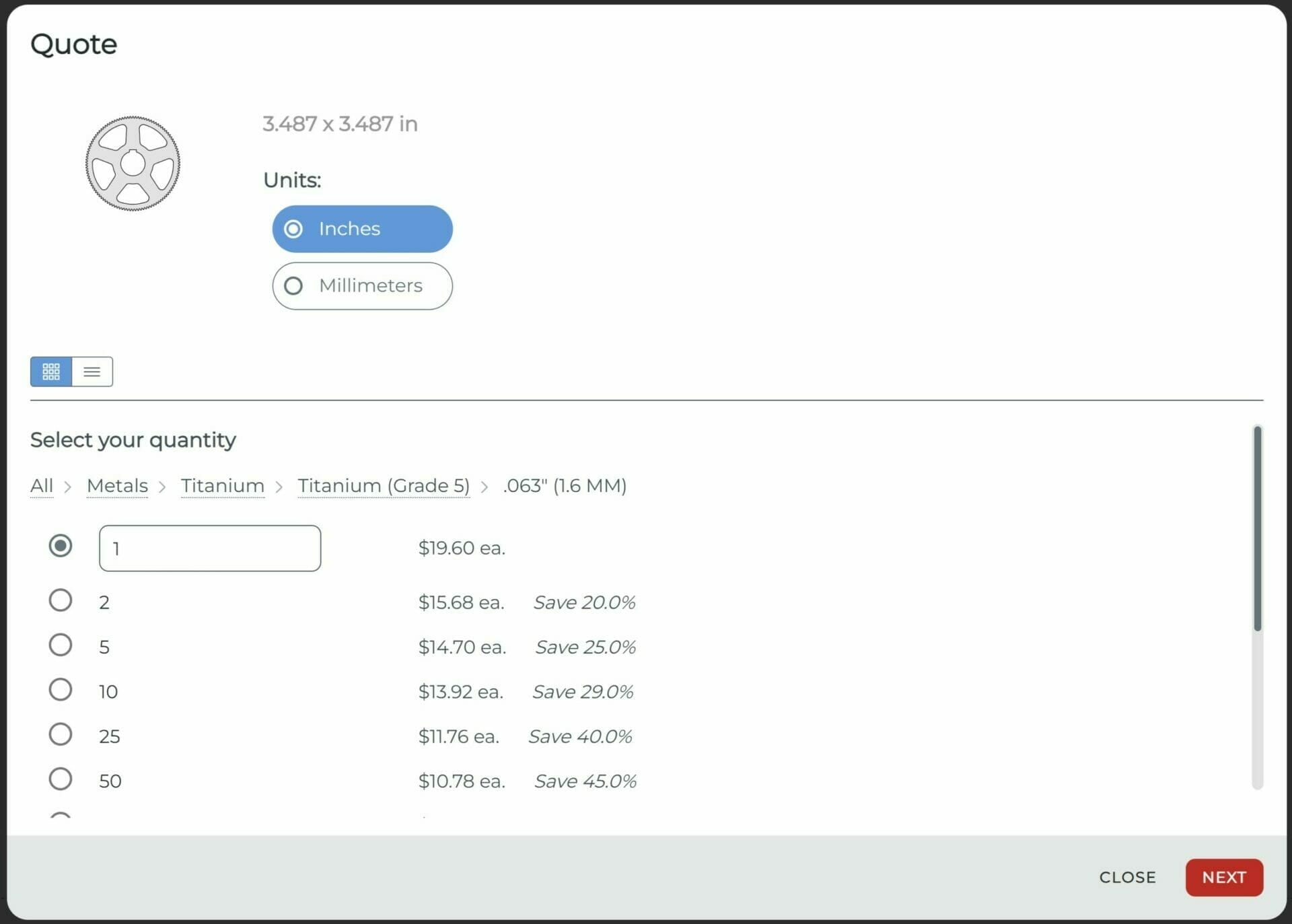 There are many cases in which titanium or another material is the necessary choice for your part, but if the design can be adjusted in favor of an alternative, this is one of the best ways to cut down your order costs.
The other change you can make to your material is the thickness. SendCutSend offers materials ranging in thickness from 0.030" (.76mm) to 0.500" (12.70mm) so you have options to make the best choice for your project and budget.
The two laser cut mounting brackets shown here are identical in every aspect: dimensions, material, and geometry. The only difference is the thickness. One bracket is 0.048" (1.2mm) 304 stainless steel and the other 0.060" (1.5mm) 304 stainless steel. The difference is almost 50 cents per part.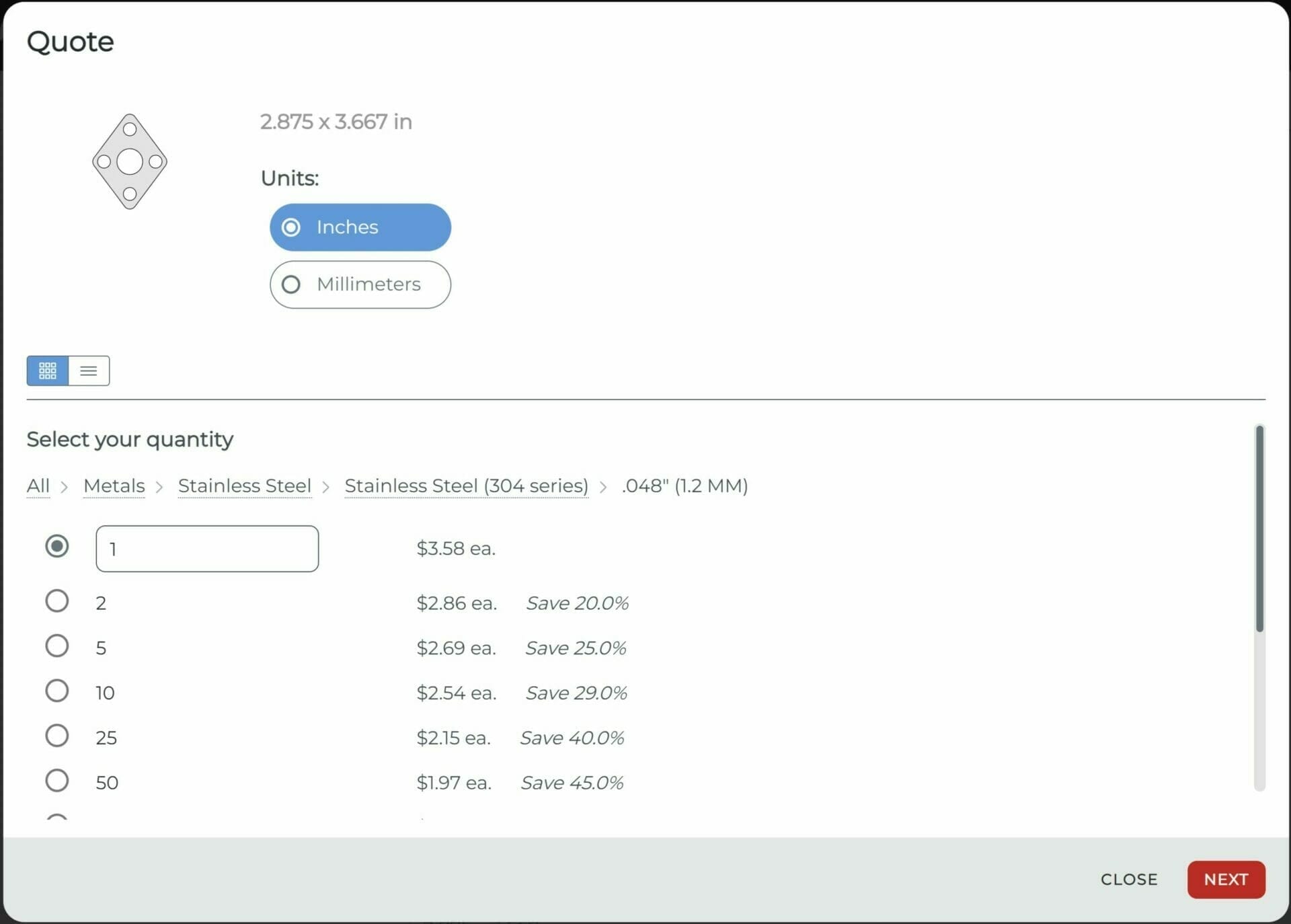 Final Thoughts
We want you to be able to get the parts you need at the price you want. If you have any further questions about how to save money on your orders, don't hesitate to contact us at support@sendcutsend.com. Browse through our materials and services to find a combination that will fit your budget.
If you've already got a design ready to go, upload it and get an instant quote today!