At a Glance:
Industry: Manufacturing
Services: Online Laser Cutting
Summary: Michael O'Donnell's customizable multitool was born from the necessity of a college student. As someone who worked with multitools since he was eight years old, O'Donnell knew that there was nothing on the market for folks who needed something custom tailored to their own needs.
Solution: Using SendCutSend's online laser cutting services, O'Donnell's company GOAT Tools now produces modular, customizable multitools for every need.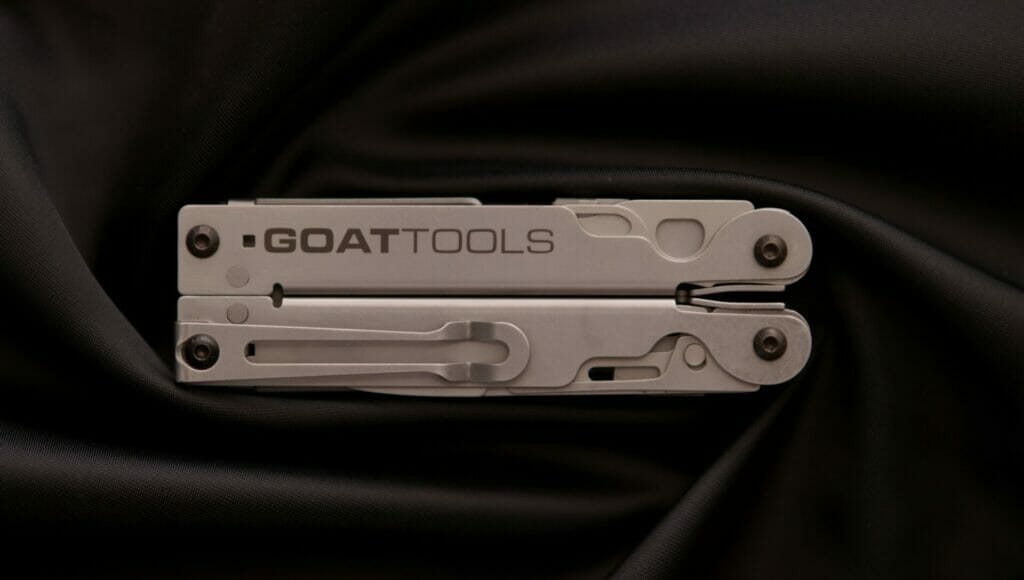 Manufacturing the Multitool
With a concept that began over seven years ago, GOAT Tools is backed by countless hours of research, dozens of prototypes, and over 1,500 backers through crowdfunding. Frustrated by the lack of options and variety in multitools, O'Donnell initially sought to replace his old multitools with something more personalized.
"I started looking for tools where I could pick and choose for myself what went on them. Most multitools have pieces that I don't ever need, like four flat-head screwdrivers for whatever reason, so they take up valuable space where I could be putting tools I would actually use. I realized pretty quickly that if I wanted something custom, I'd have to make it myself."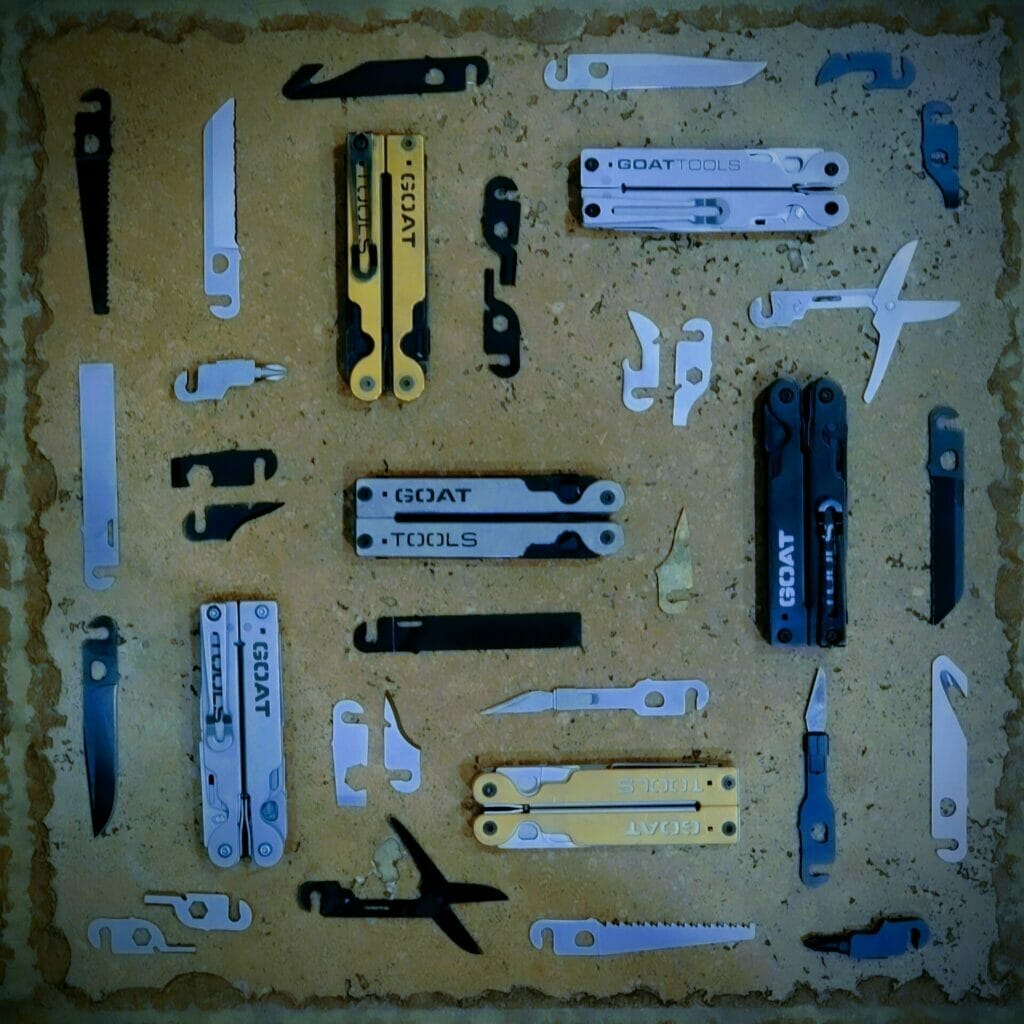 The Problem with Prototyping
What started out as a dream for O'Donnell quickly turned into a headache as he struggled to find affordable prototyping options, as well as vendors for full production runs.
"Our concept doesn't exist elsewhere on the market, so we knew there was space to fill. It started as a brain exercise in how this type of product would even work. I didn't expect to run into so many issues finding the right vendors to do our prototyping."
From the time O'Donnell began seriously pursuing the multitool design, it took three years to get a functioning, aesthetic prototype that matched the final design as closely as possible. This is due in large part to a lack of accessible services for ordering small production or prototype runs of 2D-manufactured parts. O'Donnell was having to fight for prototype parts with large scale manufacturers, causing one of the early prototypes to cost $3,000 per unit.
Frustrated by the lack of progress, O'Donnell took on a job as a contractor to cover the expenses of researching, developing, and prototyping the multitool, and began wondering if it was ever going to happen.
"Other manufacturers were making the parts out of the wrong material, they were out of tolerance, and the pieces weren't being post-processed correctly. And it took a minimum of two months to get these parts. I was used to spending thousands of dollars just to wait for the wrong thing to show up. It was beyond frustrating."
Finding the Right Manufacturer
Not one to give up easily, O'Donnell kept searching for the right manufacturer to produce the necessary parts. In 2019, when GOAT Tools was almost ready to give up on a successful prototype, O'Donnell stumbled on SendCutSend.
The instant quote tool caught O'Donnell's attention after having spent years waiting on manufacturers to give him accurate quotes.
"At first it seemed too good to be true. I didn't have high hopes, but I just dropped my file in and got an instant quote with no trouble. The quantity discounts even showed up right away which was awesome. It was genuinely easier to place an order with SendCutSend than it is to get photos printed."
Precise Parts On-Time & Under Budget
Having found the website on a Monday, O'Donnell initially asked to pick up his order before realizing that the location was out of driving distance. He emailed our support team, and got a response instantly saying they could switch his order to 2-day shipping without delays.
"All in all, this was barely a one week process of ordering parts. I ordered on a Monday and received them that Friday. They were packaged better, they were to spec—it was everything I needed. And I was floored."
Beyond the ease of ordering and processing, the biggest surprise for O'Donnell was how drastically different his experience was with our services as compared to his years of poor experiences with other manufacturers. He found the SendCutSend's online laser cutting services, ordering, and manufacturing process was not only easier and more affordable, but better quality than most other manufacturers.
"My advice for anyone looking to get parts manufactured is to just use SendCutSend because it saves man hours, it's affordable, and you'll be so thrilled once you try it that you'll come back again and again."
With well-designed parts and perfect Fusion 360 CAD files, GOAT Tools was able to use our instant quote tool, order parts, and get them delivered within a week of placing the order. O'Donnell then took advantage of our fast processing and machining times by using our online laser cutting services to their full potential, and the end result is nothing short of amazing.
Securing the Patent
With such an innovative design, O'Donnell was able to secure a full patent in the U.S. for his modular multitools, and has patents pending in several other countries. GOAT Tools is completing the prototyping stage for its multitools and is getting ready for full production runs, with the final samples expected in early September 2022.
At this juncture, GOAT Tools is testing out small production runs to work out their full manufacturing process. With a successful small production run, the next and final step will be mass production and distribution in the next few months. The best part? GOAT Tools follows an open-source business model, meaning you can stay up to date on their testing, manufacturing, and production progress on their crowdfunding page. Be sure to back and claim your multitool from GOAT Tools before the units from their first production run are gone!
Accurate, Instant, Online Laser Cutting Services & Support for Your Next Project
We're proud to be a small part of GOAT Tools' products and success. As a company that supports the makers, small business owners, and manufacturers, we love seeing folks like Michael O'Donnell succeed. The vision he has for his products and the effort he has put into their design will ensure that he eventually has one of the highest quality multitools on the market—and we'll be first in line to place an order!
If you are a business owner that's interested in developing a project or product line using online laser cut parts machined by SendCutSend, check out some of our other case studies that leverage additional online laser cutting services like CNC Routing and Waterjet Cutting for inspiration and support. Don't hesitate to reach out to our support team with any questions you may have about making full production runs with our services.
---
Do you already use us to help make products for your business? We'd love to hear about it! Reach out to us through our Partner With Us form to tell us about your business and products, and we'll be in touch with you!