Metal: you can hit it with a baseball bat, light it on fire, round-house kick it, or even drop it from your roof – although it may not look as pretty afterward, it will still be around to tell the tale. But once metal becomes a permanent fixture in the outdoors, the unseemingly harsh elements of mother nature can take their toll, rusting and rotting it beyond recognition.
If you're in the market to make an outdoor metal project, choosing the right metal can be tricky – you may regret all of those naps during high school chemistry – but, not to worry! When choosing the best metal for your outdoor project, whether it be a sign, gate, awning, fence, or even a piece of art, here are the options that will not only survive the outdoors, but may even look better over time.
Check out the properties of these five outdoor-friendly metals to pick one perfect for your laser-cut metal project.
Aluminum
Aluminum is one of the few metals in this list that's not a man-made alloy. It's a pure element that can be mined directly from the earth and possesses properties that seems straight out of a science-fiction novel. It's lightweight yet strong, ductile, machinable, and most of all, beautiful. Aluminum is the total package when it comes to metals and a great choice for your outdoor sign or project. When exposed to air, aluminum forms a natural corrosion-resistant coating which will leave it looking shiny and new for years to come. Since its not very heavy, aluminum works well as a gate or piece of outdoor wall art.

This aluminum garden shade panel will add a bit bling to the owner's backyard while providing functional protection for heat-sensitive plants.
This lightweight aluminum gate will add curb appeal, raising a home's value.
Brass
Walk down any city street and odds are you've passed dozens of uses for brass. Door handles, locks, porch lights, building plaques, street numbers, and outdoor signs are all commonly made from this copper-zinc alloy.
Like copper, Brass will form a patina over time and will turn darker as it is exposed to the elements. However, there are treatments that can be applied to leave the metal's luster in tact to retain it's gold-like look. Brass fixtures meant for outdoors will often have a sealer applied, but if you're creating a custom cut brass project from scratch, you can apply a sealer to keep the brass color shiny.
This etched brass sign is an example of brass that has yet to be weathered by outdoor elements.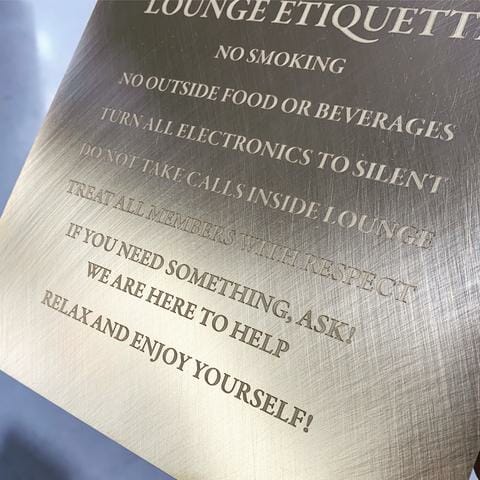 Here are a few examples of how brass will look over time.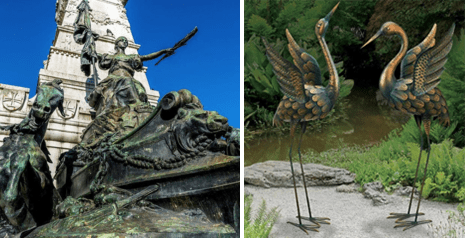 Copper
Like aluminum, copper is an element that can be mined directly from the earth and put to use in its pure form. Science has traced the use of copper back to early man, somewhere around 8,000 BC. It's an extraordinary metal due to its long list of uses and benefits, a few of which include it's malleability, conductivity and anti-corrosion properties. This makes copper a go-to for loads of functional uses including plumbing, wiring, and cookware. But beyond its functionality, copper is absolutely stunning – perhaps the prettiest of the outdoor-friendly metals.
Copper, otherwise known as a "red metal" has a truly distinctive look, making it a great choice for your outdoor sign or project.
These copper signs will surely attract attention to their business' storefront.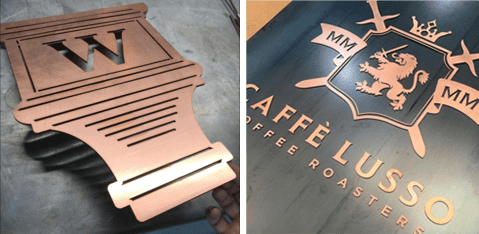 Cor-Ten
Sometimes, only a good strong steel will do. Before, using steel in the outdoors required the metal be painted or finished somehow to protect it from the elements. That is, until Cor-Ten was born. Cor-Ten, also known as "weathering steel", was developed out of a need for outdoor-friendly steel and was created specifically to eliminate the need for painting when putting it outside.
The history of Cor-Ten began with a functional purpose. It was invented and patented by United States Steel Corporation to be used in applications on the railroad. Because it's a form of steel, Cor-Ten is super strong, which makes it useful to builders and manufacturers.
Although it was invented with outdoor use in mind, Cor-Ten is not immune to reacting with outdoor elements. However the look of Cor-Ten, after it's been exposed to mother nature has become popular with home decorators, landscape architects and artists alike.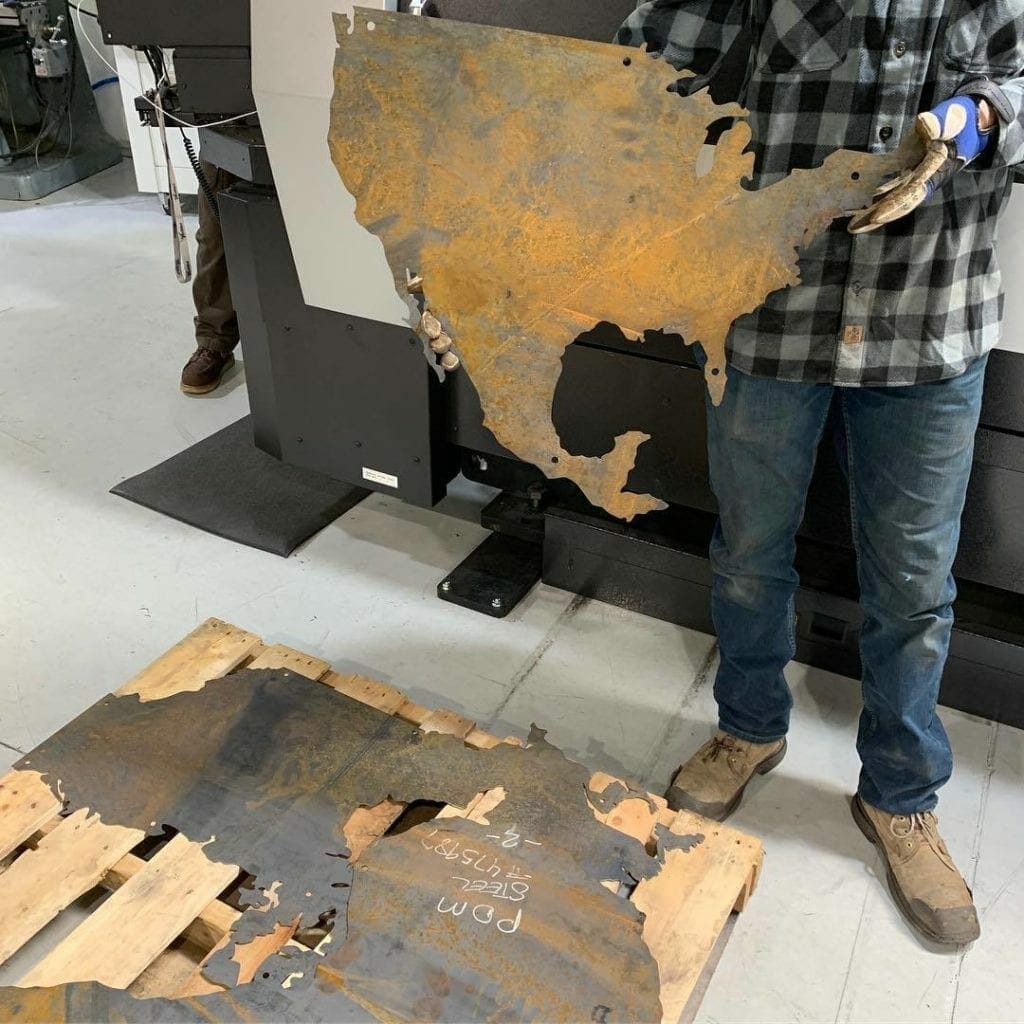 As you can see in this fresh-cut Cor-Ten sign, the markings on it make it unique, like a beautiful metal snowflake. No two pieces of Cor-Ten will look alike.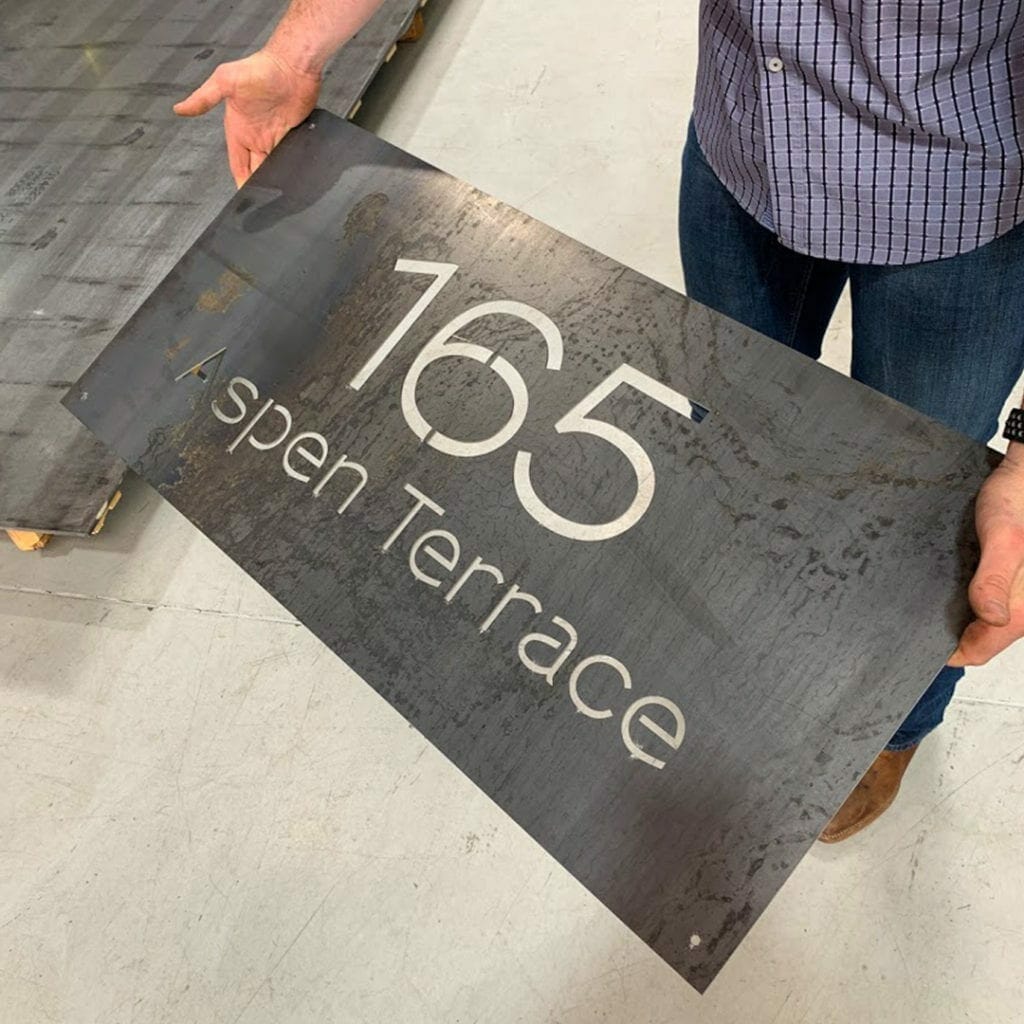 Stainless Steel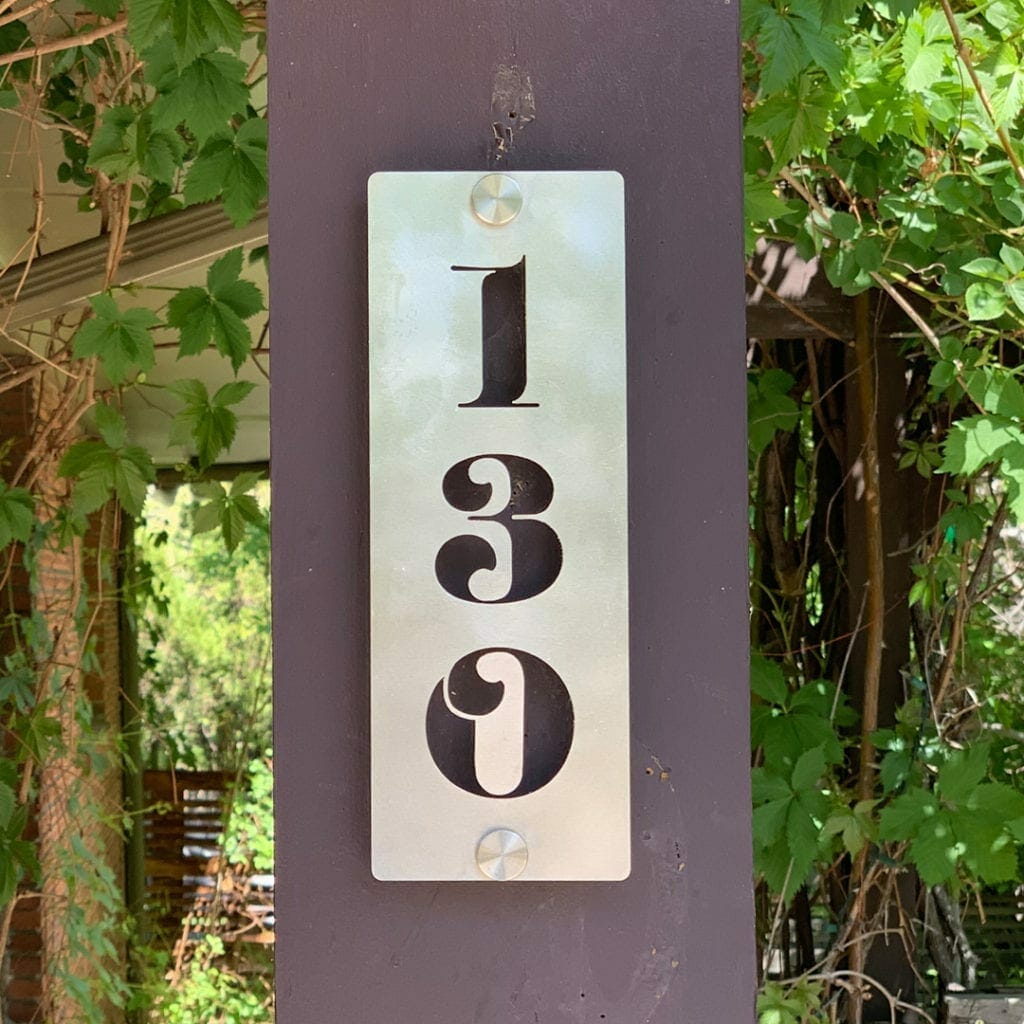 Do you remember the kid's TV show Captain Planet from the early 90's? In it, environmentally themed villain-fighting do-gooders (a.k.a. Planeteers) would combine their powers of earth, air, water, wind and heart to summon the superhero Captain Planet and help them fight off evil. That's a long-winded metaphor for stainless steel. Like Planeteers, stainless steel has various alloys within it, including chromium, nickel, malybdenum, titanium, and copper. With the power of these various elements combined, they react with oxygen to form a film (not quite a superhero), but the film possesses the impressive ability to keep rust and corrosion from forming on the metal's surface.
Stainless steel's silvery look and anti-corrosion properties make it a go to for all types of outdoor uses. Stainless steel has a list of other benefits that make it great for the outdoors as well. For starters, it's incredibly strong and durable. Stainless is also great for welding and can take on different looks when it's brushed or polished.
If you're looking to make an outdoor project that stands the test of time, picking the right metal is a crucial step. Learn more about these outdoor-friendly metals from the folks at SendCutSend. To bounce off ideas, get a quote, or even ask nerdy questions about metal alloys and corrosive properties, they're standing by to help you out.