At a Glance
Industry: Everyday Carry Tools
Services: Online Laser Cutting
Summary: Logan Teale Thompson, founder of TealeDesigns, knew he could create an affordable everyday carry (EDC) tools without sacrificing quality or aesthetics. After designing and manufacturing his first tools, TealeDesigns took off and Teale knew he needed a better solution for machining parts and scaling his business.
Solution: Teale utilized SendCutSend's online laser cutting services to cut down on time while saving money, now able to produce more tools than before.
The First TealeDesigns EDC Tools
When Logan Teale was first introduced to the everyday carry (EDC) community, he was disappointed by the cost and quality of the widely available tools. Knowing he could make the same product at a lower price point, he began experimenting with laser cutting his own everyday carry using machines available at his day job. It was difficult to manufacture more than a few at a time, so Teale started out small and listed his early tools on Ebay.
"When I was looking to buy my first EDC pry bar, I realized most of them were wildly overpriced. The titanium tools would be over $100. I thought to myself, "I can make those myself for a better price and be more efficient in the process." It all started from just a couple of tools I cut at my job."
Too many tools, so little time
In the early days of TealeDesigns, cutting the parts on machines at his full time job was a great solution for Teale. He was able to purchase scrap material at a low cost that was to be trashed anyway. Using a shed behind his moms house for finishing and assembly, there was little overhead and it helped keep his costs low.
"I would cut a couple of parts after work, and I lived in an apartment at the time, so I would go clean up and assemble the parts in a shed behind my mom's house so I wouldn't disturb my neighbors. I did that everyday and made a few sales on Ebay before it started getting really big."
Once his EDC tools started taking off, Teale moved his products to Etsy, where he still sells from. He was still manufacturing small runs every day at work, but he soon came up against issues with cutting quantity and time. Although running out of time to make all the orders is a great problem to have for a small business, it was taking its toll on Teale and the business.
"The biggest challenge for TealeDesigns is that it's a one-man business. I stay busy, which is great, but I'm working all hours to get orders ready and continue to work my full-time job. It's a lot of work for sure."
As the demand for Teale's tools quickly exceeded what he could manufacture on his own, he needed an affordable, efficient option to keep his customers happy and his costs low. Hearing about SendCutSend and our services from an online maker came at the perfect time for TealeDesigns. After looking through other companies and services, SendCutSend almost seemed too good to be true.
Bringing Online Laser Cutting to TealeDesigns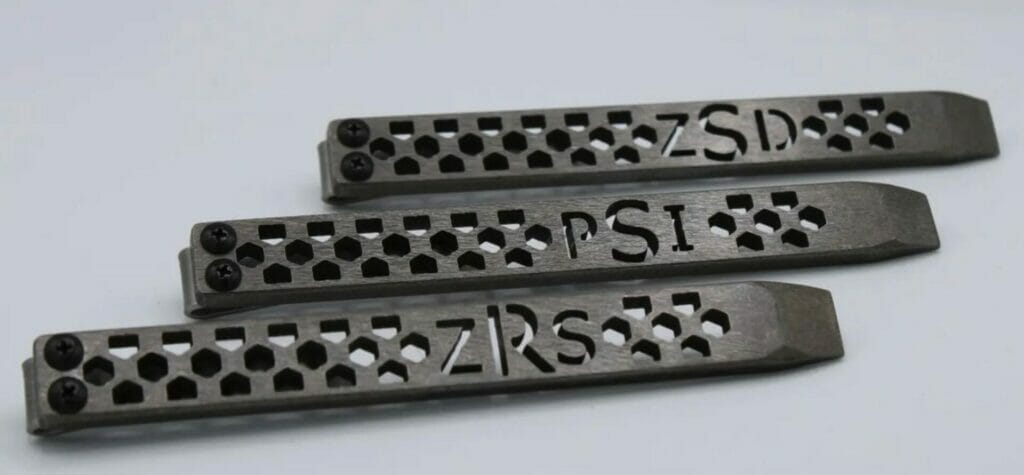 When Teale placed his early orders from SendCutSend, he steeled himself against the inevitable online fees and hidden costs usually associated with online laser cutting services. To his surprise, the service prices listed on the website were just that – no hidden fees and no additions.
"SendCutSend's pricing is the most transparent of any laser cutting service I had looked into. I didn't have to worry about a bunch of fees getting tacked onto my cart because what you see is just what it costs. And I don't have to navigate all over the website to find the prices for the services I want. I've yet to find a better company website."
With the addition of SendCutSend to his business operations, orders for TealeDesigns EDC tools only grew. Customers loved the products and Teale added even more designs to his inventory. Despite this, customers were still requesting custom parts and designs in their EDC tools, creating more design work for Teale. He was willing to take on the challenge, knowing that he would receive the parts for his customer's custom tools from SendCutSend almost quicker than he could manufacture them himself.
Although Teale initially turned to our laser cutting services for the upfront costs and quick turnaround time, he stayed for the customer service and consistency in quality. Teale orders parts in titanium, brass, stainless steel, and copper, which can be temperamental materials to machine.
"The parts I order are almost always perfect, but every once in a while when I need a part recut, the customer service at SendCutSend is the best I've ever dealt with. They're quick to process the recut and get me a new part in just a few days. It's awesome!"
EDC Tools Made In the USA
Some of the best businesses start out with a guy in a garage, making products they're proud to stand behind. TealeDesigns is one of those businesses where 100% of the parts and processes used in Teale's products are fully sourced and made in the USA.
Teale has also placed more orders with SendCutSend than anyone else, placing an order everyday or every other day for the past 3 years. That's over 1,135 orders, and 100% of his EDC tools contain parts manufactured by SendCutSend! He encourages other small business owners to give SendCutSend a chance because it might just change how you do business for good.
Let Us Laser Cut Parts for Your Small Business!
Everyone deserves the chance and the capability to create the products that have been stuck in their head for years. We love being able to give Logan Teale that chance with TealeDesigns, and we can't wait to see how he takes his business to new heights in the future. You can follow along with Logan Teale on Instagram at @teale_designs or @teale_designs_tools. And be sure to place your EDC tools order from TealeDesigns on Etsy!
If you're a business owner wanting to get started with your own line of products, check out our customer case studies and hear from people just like you about how our online laser cutting services have helped bring their businesses to life. With services like online laser and waterjet cutting, as well as anodizing, powder coating, and more, we can do full production runs for any number of products. Don't hesitate to reach out to our support team with any questions you may have!
–
Do you already use parts from SendCutSend in your products? Reach out through our Partner With Us form to tell us all about it. We'll be in touch!