Here at SendCutSend, we're able to manufacture a huge variety of parts and products out of dozens of high quality materials. For the most part, creativity is the limit of what you can do with our services. But there are a few minimums and maximums that we have in place to make sure the parts you order are able to be cut successfully.
Each of our services have their own unique limitations that may require some design adjustments. You can find more specific information in our design guidelines and on our Processing Min/Max sheet.
Why Do We Have Minimum Part Sizes?
The biggest reason we have minimum part sizes is for ease of manufacturing. In general, the thicker a material is, the larger its minimum part size has to be. This is because small geometry, both external and internal, in sheet material parts greatly affects their final quality. It's important to note that we will automatically reject parts that are smaller than our minimum requirements if the order is placed using an instant quote so you don't have to worry about accidentally ordering parts that are too small. Keep in mind that if you request a custom quote and your parts are too small, our support team will contact you and you will need to redesign the parts to fit within our requirements.
One of the main issues with trying to cut parts that are too small is dross and burr buildup. Dross is really only an issue with machining methods where heat is used (laser cutting) because it's the metal's impurities building up on the surface after being melted by the heat of the laser. If the laser is attempting to cut through thick material and make small, precise cuts on a little part, the dross buildup will worsen because the laser has to slow down to make those cuts happen. Burr buildup can occur on parts of any material and with any machining process, but can worsen on small parts and be difficult to remove, lessening the edge quality of the part.
We machine many parts at a time on one sheet of material. When those parts are finished being machined, they go through a process called "denesting," where we remove every single part from the material sheet they were cut from. Extremely small pieces are difficult to remove from the material sheet without breaking, deforming, or otherwise damaging them. This is another reason we have a minimum external part size because we want your parts to be as successful as possible.
Between the dross and burr buildup as well as difficulty with denesting, machining parts smaller than our minimum requirements isn't conducive to fast production. It takes a significant amount of time to cut such small parts and the imperfections they face can lead to multiple remakes, adding unnecessary time and stress to your order. With our years of trial and error machining parts of all thicknesses and sizes, we've learned what sizes work best to ensure efficiency in processing and minimal recuts. Making sure your parts fit within our minimum requirements from the beginning of the design process will ensure that we can cut your parts quickly and accurately!
Why Do We Have Maximum Part Sizes?
The maximum part sizes are limited mostly by two things: the size of the material sheet and the size of the machine being used. Looking at the Material Min/Max sheet, you can see that we can cut much larger parts out of materials being cut by the fiber laser than those being cut by the CNC router. This is simply because the fiber laser is larger than the CNC router and able to process bigger pieces of material.
To cut parts on the CNC router or on other smaller machines, we have to cut the raw material down to a size that those machines can handle. This limits the maximum size of what we can cut out of the raw material because the raw material itself is relatively small. While you cannot choose how your parts are machined, rest assured that we are choosing the fastest, most accurate process for your material and part.
Note that we have different sizes for the maximum part size for an instant quote and the maximum part size for a custom quote. This is just because of shipping needs. Parts that exceed our maximum instant quote size will need to be checked by one of our support agents to ensure that all shipping accommodations are met on our end.
Minimum and Maximum Sizes for Processing
Though this article is focusing mostly on the importance of minimum and maximum part sizing for machining, it's important to note that all of our post-processing services also have minimum and maximum part sizes. This includes bending, tapping, deburring, and powder coating. The reason each of these services have their own minimum and maximum part size is due to the individual limitations and needs of each service. You can find the information for processing part sizes on our Processing Min/Max chart.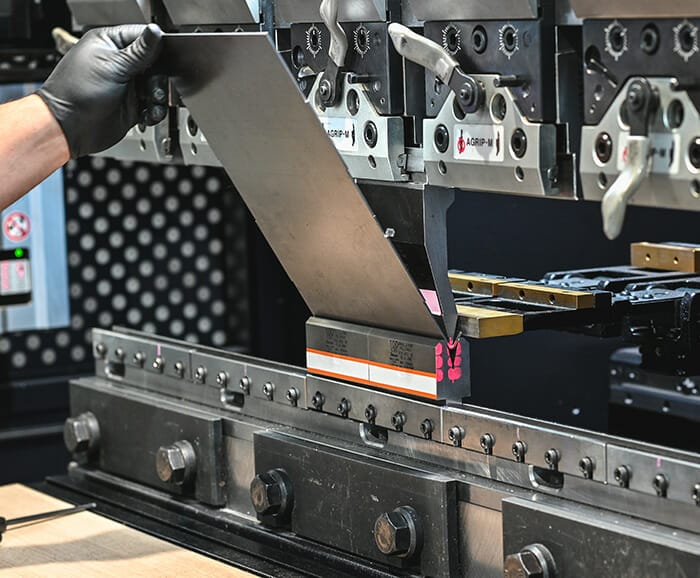 For fast production, make sure that your parts not only fit within the machining size parameters, but the size parameters for any additional processing you may need as well. Be sure to read through the design guidelines for those processes before submitting your order:
Designing for Manufacturing with SendCutSend
You will find more success from your parts if you design them specifically with manufacturing in mind. Making them easy and fast to manufacture will help you reduce cost and time spent in production, giving you a finished product that's affordable, efficient, and high quality. Check out our design guidelines for the machining method we use for your chosen material and make sure your parts fit within those parameters.
Once you've done that and are ready to place your order, upload your file to our website today to get an instant quote!