In this tutorial we'll cover all the basics for designing for laser cutting in Adobe Illustrator.
Before you begin
Designing for laser cutting in Adobe Illustrator is super easy, and SendCutSend makes it even easier to produce those fantastic designs. There are just a couple of things to cover before you get started with your laser cut design in Illustrator. 
The first thing is to make sure your measurement units are set to inches or mm. This will make it easier to upload your file to our website and ensure it scales correctly when it's sent to the laser-cutter. Speaking of scale, you should also make sure your artboard size is just a bit bigger than the final width and height of your piece.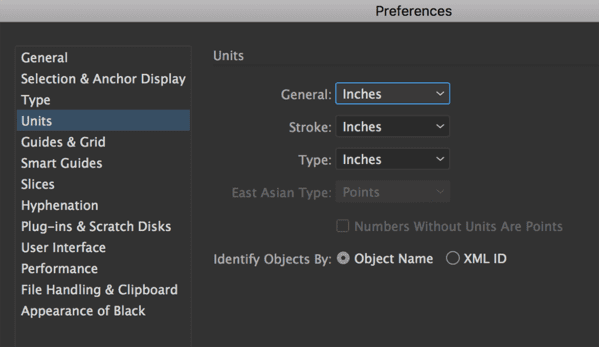 We also suggest viewing your design in "outline view" mode multiple times during the process of designing your parts for laser-cutting. This will make it easier to catch empty objects or stray points that could potentially create problems down the road.
Object sizing
When dreaming up your design, keep in mind that all individual parts should have an overall size larger than 0.5" x 0.5″. Since each individual part will be laser-cut with a microtab (a tiny link to the nest to keep objects from falling into the abyss), having parts smaller than 0.5"-1" makes them difficult to separate from the material.
Be aware of what material thickness you plan to choose when initially designing for laser cutting in Illustrator. Keep all holes and cut-out areas (including type) a minimum width of .5x (50%) material thickness. Anything smaller than that is extremely difficult to laser-cut and will not execute successfully. For example, in ¼" thick material, the smallest hole, cutout, or "web" should be no smaller than ⅛".
Avoid sharp angles and intricate details on smaller objects. Details and small features should never be smaller than the width of the laser beam (.008″-.015″). Again, using material thickness as a minimum size for details would be a good rule of thumb.
Common Issues
If you're laser cutting text out of your design, like a stencil, be sure to use a font with stencil properties or be sure to manually create "bridges" to the holes in your letters. We've got a more in-depth tutorial on Preparing Your Text for Laser-cutting in Illustrator here.

In addition, none of your objects should have open contours. In other words, all shapes should have a fully connected outline. An easy way to find these openings is to view your design in "outline" mode as we talked about at the beginning of the tutorial.
Make sure you design your parts as a single object, and not multiple shapes overlapping each other. Make use of your "Pathfinder Palette" to combine (we sometimes call it "welding") or exclude multiple objects. Check out our tutorial on Welding and Merging Shapes in Illustrator to get all the information you need.
To prevent issues when uploading your file, design your objects as fills and not strokes. This is critical to designing for laser cutting in Illustrator because when you create an object with stroke, it gives your part an outline that doesn't register as a cutting path. What we see ends up having 2 outlines: your original planned outline, and the outline the stroke adds to the outside of the part. The automated process cannot accept files like this so it's easier to skip any strokes from the beginning.
Finally, make sure your design does not have any intersecting lines. Intersecting lines or lines that cross each other will not be able to be laser cut.
Cleaning up your file
Before you export your file to upload to us, be sure to remove everything that is not going to be laser-cut. This includes empty shapes, boxes, stray points and text areas. If you click on your Select Menu, and hover over "Object," you'll see a list of things you can select. We suggest selecting each of the following: "Clipping Masks," "Stray Points," and "All Text Objects."
By selecting these options, you'll be able to quickly spot stray geometry that could cause errors when laser cutting.
To find duplicate objects or empty shapes, select a single object and move it slightly. View in "outline" mode and you'll quickly see if you have any double lines or extra objects. Duplicate objects are sometimes created when using Pathfinder tools such as "combine" or "exclude." Make sure all your objects are on the same layer.
Exporting your design
If you design for laser-cutting in Adobe Illustrator, it couldn't be easier to upload your file to SendCutSend. All you need to do is save your file in .ai format and then upload it to our instant quote generator.