*This article was last updated on February 17, 2023
Although we started out as a sheet metal laser cutting company, we wanted to also offer materials that were easier to machine, affordable, and saved space and weight. That's why we have a diverse lineup of sheet plastics consisting of ABS, Acrylic, Delrin, HDPE, Polycarbonate, and UHMW that offer attributes and abilities that metal simply can't match. In this article, we are going to walk through the properties of all of these materials as well as their price points, common applications, and the pros and cons of working with them.
Article Contents:
Overview of All Plastics We Offer
Cost Comparison
Considering the Manufacturing Process
Example Projects
Materials Properties Cheat Sheet
Sheet Plastics Breakdown
Manufacturing Process: CNC routing service
Pros:
ABS is a strong, impact-resistant, and durable plastic that is extremely common as it lends itself well to injection molding & 3D printing. Its low cost and high strength-to-density ratio makes it a popular choice for prototyping and high stress applications. Additionally, the material is BPA free and easy to clean making it good for applications involving consumables and electronics.
Cons:
A few drawbacks to consider with ABS are its low melting point and low continuous operation temperature making it a poor choice for high-heat applications like engine bays and light housings. Additionally, the material is quite rigid with little flexural strength. Depending on your application that may be an upside as you may prefer rigidity over flexibility but that is something to keep in mind.
Typical Uses:
Prototyping
High-stress applications
Dashboards
Seat backs
Instrument paneling
Manufacturing Process: Laser cutting service
Pros:
Acrylic is one of the most popular sheet plastics in the DIY community and not without good reason. Its low cost combined with its versatility, weather resistance, and lightweight properties makes it a no-brainer for a wide variety of applications. The material also comes in a spectrum of colors and thicknesses allowing it to substitute for many other sheet plastics. It also has the highest tensile, comprehensive, and flexural strength out of any plastic we offer, making it 10-times more resistant to impact than standard glass. Additionally, the material has the highest shear modulus out of any material we offer making it a fantastic option for any applications where you need your part to hold its shape over time.
Cons:
Acrylic is not perfect for everything as it does have a high coefficient of friction and scratches quite easily making it a poor choice for applications where your part will regularly be sliding against others. Its renowned rigidity is also something to consider as it doesn't have the elasticity of Polycarbonate that many designers rely on for impact-resistant mechanisms.
Typical Uses:
Display panels
Equipment
Enclosures
Aesthetic panels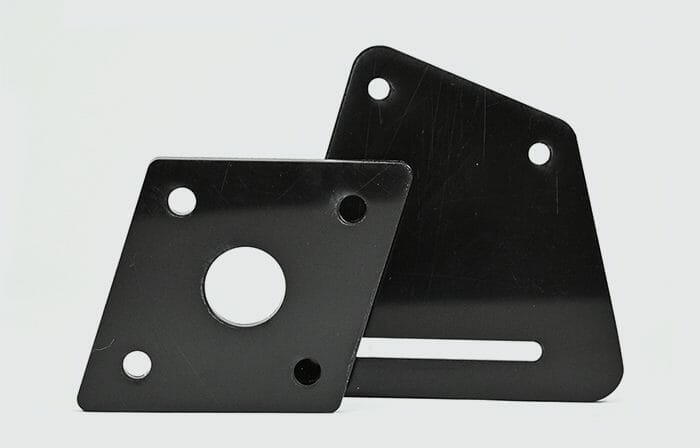 Manufacturing Process: CNC routing service
Pros:
Delrin is quite a unique material in our lineup with its combination of strength, heat resistance, and durability. It has the highest elastic modulus out of any plastic we offer meaning it can handle practically endless repeated loading without deformation. Its high melting point and low electrical conductivity also makes it a fantastic option to use as an electrical insulator and its dense, low-friction surface makes it suitable for use with lubricants and solvents.
Cons:
There are two things to keep in mind if you choose to go with Delrin: its finish and its weight. We only offer Delrin in an almost glossy black finish that does tend to scratch easily making it not the best choice for applications where aesthetics come first. More importantly, however, is the weight: Delrin is the heaviest plastic we offer by a large margin and parts get heavy quickly so it's really important to consider if you can afford the extra weight for the advantages it provides over alternatives like ABS.
Typical Uses:
Where exposure to wear and extreme moisture is guaranteed
Robotics
Automotive
Bushings & Gears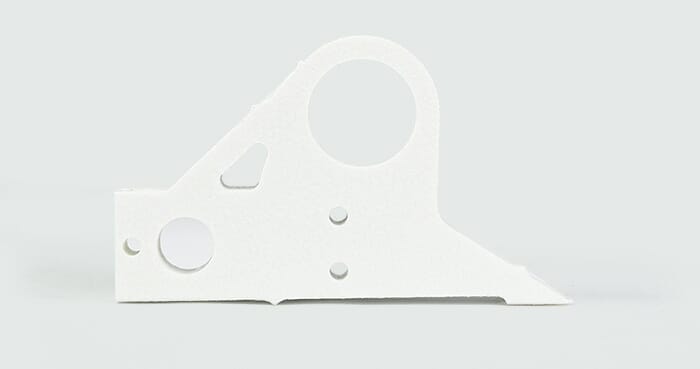 Manufacturing Process: CNC routing service
Pros:
HDPE has the most diverse applications out of any sheet plastics we offer spanning from marine surfaces and structural components to food and beverage containers. The material is non-staining, impact-resistant, and resistant to mold, mildew, corrosion, and other forms of rot making it a fantastic choice for high moisture environments. It being easy to sterilize, non-toxic, easily recyclable, and compatible with most common chemicals makes it a popular choice for applications involving food as well. The material is also remarkably lightweight and long-lasting making it an all-around popular pick for a wide variety of applications.
Cons:
Since HDPE has the lowest tensile, comprehensive, and flexural strength and the lowest flexural modulus in our lineup you'll want to be cautious about what you use it for. It also has the highest thermal conductivity and the lowest melting point meaning it will heat up and melt the fastest out of any of our plastics. Therefore, HDPE is a fantastic material for the use cases it is most commonly used for but we advise proceeding with caution for anything that requires a lot of strength, heat resistance, or repeated bending.
Typical Uses:
An alternative to wood for harsh environments and marine applications
Marine surfaces
Bulkheads
Industrial containers
Structural components
Washers
Where water transport or exposure are major factors
Food and beverage containers
Manufacturing Process: CNC routing service
Pros:
Polycarbonate is often compared to Acrylic since it is commonly used as an alternative to glass but in reality it has starkly different physical attributes. While Polycarbonate is incredibly strong, much like Acrylic its strength comes from its elasticity rather than its rigidity. This material has the highest melting point out of any plastic we offer and holds its strength over a wide range of temperatures and takes a long time to heat up. Lexan's high modulus of elasticity allows it to constantly bend and return to its original shape even under high pressure and high temperature loads making it a great option for a wide variety of use cases.
Cons:
Polycarbonate tends to compliment Acrylic fantastically since the material aesthetically looks very similar while being the yin to Acrylic yang when it comes to material properties. Polycarb is not rigid like Acrylic which is fantastic for certain use cases. If you need something rigid, we recommend going with Acrylic since Polycarb is another heavy material so increasing thickness for rigidity adds weight on quickly. It's also quite a soft material and it has a low shear modulus meaning it scores and deforms easily under concentrated pressure. Also due to its softness and high modulus of elasticity, its elongation at break is extremely high which is something to be careful about if you'd prefer that your part snapped instead of stretched as Polycarb will.
Typical Uses:
High-impact applications
Instrument panel covers
Insulation applications
Fittings
Robotics and automation industries
Windows, skylights, roof domes & windshields
Bulletproof glass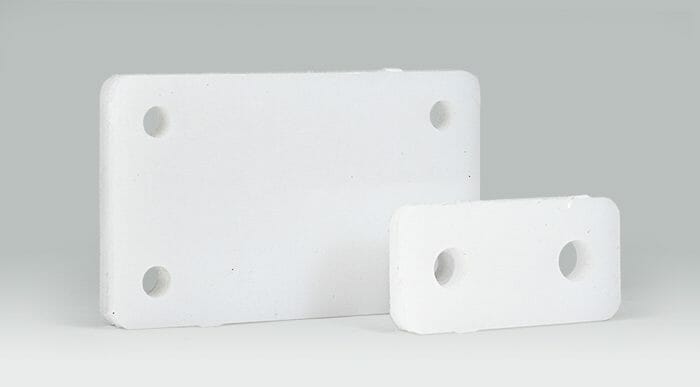 Manufacturing Process: CNC routing service
Pros:
UHMW is renowned for its unique combination of extreme durability, versatility, and cost-effectiveness. In addition to being easily machinable with common woodworking tools it is reliably abrasion, impact, and chemical resistant. This is the lightest plastic in our catalog which in combination with its low coefficient of friction and self-lubrication makes it a popular choice for marine construction applications. Additionally, its high molecular weight makes the material slick, tough, and impact resistant, often causing it to outperform metal parts in specific applications.
Cons:
Just like all of the other sheet plastics we've looked at in this article, UHMW isn't the solution to everything. It has the second lowest melting point meaning it should be kept out of reach of any heat sources. Additionally, its low shear modulus and extremely high elongation at break means that it will stretch beyond its original form long before it breaks. While this is great for some applications, it isn't suitable for all so be sure to take that into consideration.
Typical Uses:
Long-term wear applications that require a longer lifespan
Marine construction applications
Replace wood in marine scenarios as they do not rot, splinter, or corrode
Cost Comparison of Our Sheet Plastics
* The cost of Acrylic fluctuates based on color. It will still stay in the same ballpark but colored options tend to be slightly costlier.
Here is a price comparison using an identical part for all of the different plastics we offer. One major thing to keep in mind if you are deciding on a plastic based on cost alone is the material thickness. The thicknesses you see listed above are the thinnest options we offer in each material at the time of writing this article. Additionally, certain plastics as we've explained above are inherently weaker than others meaning you might need to increase your material thickness to match the strength of another material which could drastically change the price. If price to strength is your biggest concern, we strongly recommend playing around with our instant quotes in addition to reading up on the material properties to decide not only which material would be best for you but also which thickness would match your needs to get the best bang for your buck.
Manufacturing Process
One significant difference with our sheet plastics lineup against our sheet metal catalog is that the vast majority of the plastics are cut using our CNC routing services rather than our laser cutting services due to their low melting points and often toxic emissions when melted. Depending on the size and complexity of your parts, this may drastically change the way your parts have to be designed as the CNC can't cut right angles and has a few special accommodations that must be made in order to use it.
At the time of writing, Acrylic is the only plastic that we manufacture exclusively on the laser cutter. Therefore, before making your final decision, we highly recommend reviewing both the CNC router & laser cutting guidelines to see if any of your parts are going to have unforeseen issues with their respective manufacturing processes.
Keep in mind that with all parts cut on the CNC router or the waterjet cutter, there will be a small manufacturing tab left over. We use that tab to hold the part in place while it's being machined. While the tab can't be removed with our deburring services, it's easy to sand down the tab yourself after you receive your parts.
When & When Not to Use Plastics
As we've discussed over the course of this article, the sheet plastics we offer are intended to each serve a different purpose within the overall catalog so that each plastic can cover the others' shortcomings. There are, however, a few things that plastics should in general not be used for. In high heat, high pressure, and high impact environments, you may find that plastics simply can't cover all of the bases or withstand the extreme factors imposed on them. In these scenarios, we recommend turning to our wide catalog of metals and composites that may better suit your needs.
Material Properties Table & Cheat sheet
Lastly, if you want to dive into the nitty gritty or if you are just looking for a breakdown of all the material properties, you've found the right place. Below is the table that compares all of the material properties side by side and the cheat sheet is just below that.
Cheat Sheet: Material Properties Cheat Sheet
With those resources and the rest of the article above we hope that you have every tool you need at your disposal to make the best decision for you and get an instant quote today. If not, feel free to contact us with any questions!