Our online waterjet cutting service is fast, accurate, and affordable. With a variety of materials available, you'll find that the edge quality and precision we can achieve are unmatched. Check out the video and follow along with the transcript below for an introduction to our waterjet services.
Video Introduction To Online Waterjet Cutting Services
Benefits of Our Waterjet Service
When you submit your order online, we pick the best machine to cut out your parts based on several factors, the biggest one being material type. Materials such as G10, carbon fiber, and LE Phenolic are cut using one of our waterjets.
One of the biggest benefits of using the waterjet cutting process is that we are able to attain a high precision cut, with no heat affected zone (HAZ). We are also able to cut with a superior edge quality, with little to no burr or dross.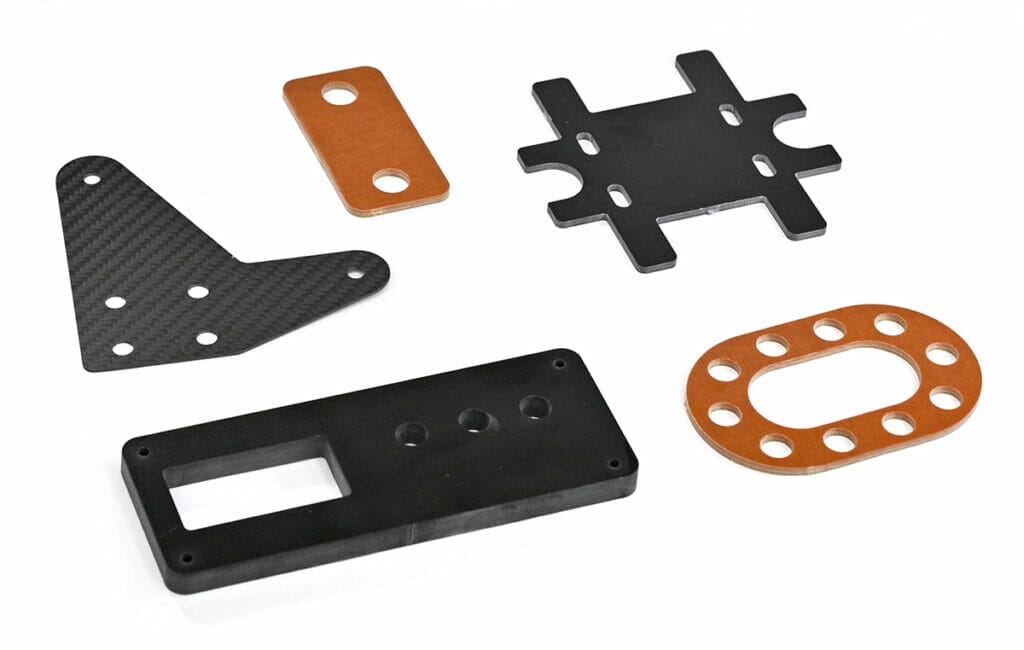 What To Expect
Similar to the CNC router, the waterjet cutter has a large "kerf" or cutting width due to the size of the jet stream. This is going to result in slightly restricted internal geometry, such as holes.
There will also be a small radius in the internal corners of your part. This is due to the circular jet cutting into those corners, preventing a sharp angle from being achieved. Make sure that the design you upload for waterjet cutting can accommodate radiused internal geometry.
Waterjet cut parts will also have a small tab due to the manufacturing process. This can be removed with a secondary operation, like radial sanding, once you receive your parts. Depending on the material of your part, you will need to be cautious with this method as dust particles created by some of these materials when sanding can be harmful to breathe or ingest.
Finally, delamination is possible on composite parts at the pierce and lead-in areas of your design. Splashback, which looks similar to sandblasting, can also occur on the back of your part from the abrasive media used in the waterjet stream to help cut through the material.
Designing for Waterjet Cutting
When selecting a material that will be waterjet cut, it's important to make sure that your design is well-suited for the process. To do this, review our waterjet design guidelines and check your own design against them to ensure a successful cut.
If you have questions about what parts we waterjet cut and why, check out our article on what designs and materials we waterjet cut or reach out to our support team. Once you've finalized your design, upload the file to our website and get an instant waterjet cutting quote today!