SendCutSend superfan and custom hot rod builder Kyle Kuhnhausen was more than happy to break down some of his recent projects for us, showing off a few custom cars he is working on in the shop right now and giving some advice to other car enthusiasts looking to use SendCutSend. From custom chassis work to beautiful aesthetic redesigns and full tilt ground-up builds, Kuhnhausen has laser cut parts in every corner of each of his builds. Keep reading to learn how he optimizes SendCutSend services for his business!
At a Glance
Industry: Automotive
Services: Online Laser Cutting and Sheet Metal Bending
Summary: As a custom hot rod builder working in a one-man shop, Kyle Kuhnhausen needed a better option for fast prototyping and design iteration. Working on multiple projects at a time doesn't leave much room for slow machining or long turnaround times, and Kyle's detailed designs needed the highest possible machining quality.
Solution: Kyle turned to SendCutSend in the early days of his business and began posting his custom builds to social media, where he has since garnered a significant following. A proud SendCutSend evangelist, his builds now boast upwards of 200+ custom SendCutSend parts per car.
Top Young Gun Kyle Kuhnhausen
After winning SEMA's "Top Young Gun" award in 2018, Kyle Kuhnhausen's social media pages started to blow up. Although he never wanted to be an influencer, the demand for his custom hot rod content was too high and Kyle began posting regularly on Instagram. As people flocked to his content and his custom hot rod business grew, Kyle realized that he was solving problems many car enthusiasts faced with his custom designs. He opened an online storefront to sell his tools and parts with universal applications.
With the business and his follower count growing, Kyle was struggling to stay on top of prototyping and design development. Each piece needed to be designed and prototyped quickly to allow for faster turnaround times for his clients and customers, but as a true one-man show, Kyle needed a better solution for quick parts manufacturing.
"I really couldn't do much prototyping and parts development because I was doing everything by hand in my small shop. It added time to each project that I just didn't have. One of my partners was using SendCutSend and pointed me in that direction. Needless to say I was hooked right away. It's like having my own full-tilt manufacturing facility without having to own all the machines myself!"
Taking Custom to Another Level
Starting out at Oregon State University as a mechanical engineering major, Kyle was somewhat familiar with CAD when he launched his small business. But he soon fell into it out of necessity to design his custom parts with more precision, picking up SolidWorks for its collaborative features and simple user experience. Kyle uses SolidWorks daily now to design custom laser cut parts.
"When I won the SEMA Top Young Gun award in 2018, I won with a car that I used zero CAD to build. It was great, but I realized that if I wanted to keep up with my industry and design some really cool custom things, I needed to pick up CAD. Other shops at the time were using Solidworks and there is so much educational content for SolidWorks that I decided to go with that."
Using SolidWorks to design laser cut parts allows Kyle to put his own style into every single part, no matter how small. These details in all the seen and unseen pieces pushes the whole design forward, which Kyle says is like putting together a puzzle without the box. This challenge is magnified by the fact that he is working on at least two cars at a time, with completely different custom needs for his clients.
He's always up for the task though. Kyle's clients come to him knowing that they are going to get extreme precision and attention to detail, with every single part built to suit each individual's exact needs. His totally custom "flavor of build" is what has allowed him to build such a loyal client base and online following, as well as develop relationships with other hot rod builders and their shops.
Rebuilding a 1966 Corvette
One of Kyle's ongoing projects is a complete ground-up 1966 Corvette build. This build comes with a unique challenge: the client for this project is 6'6″ tall, and the Corvette has a notoriously small cabin area. Throw in a front mid-mounted LT4 engine, dual clutch transmission, modern electronics, and a slew of creature comforts. It's essentially an exercise in shoving 20lbs into a 5lb bag. Kyle's expertise and creativity are being put to the test as he tackles the packaging aspect of the car design, ensuring that it accommodates the client's height without compromising the aesthetics or performance of the vehicle and all its advanced systems
Kyle is implementing a custom chassis while carefully engineering the interior space to maximize the client's comfort while driving. Every aspect of the build reflects his dedication to precision and quality. From the weapons-grade fabrication to the smallest details, he ensures that the car not only meets the client's requirements but also exceeds expectations. Kyle is currently sharing his progress on the project on his Instagram, providing his followers with an exclusive look into the intricate process of transforming this 1966 Corvette into a one-of-a-kind masterpiece.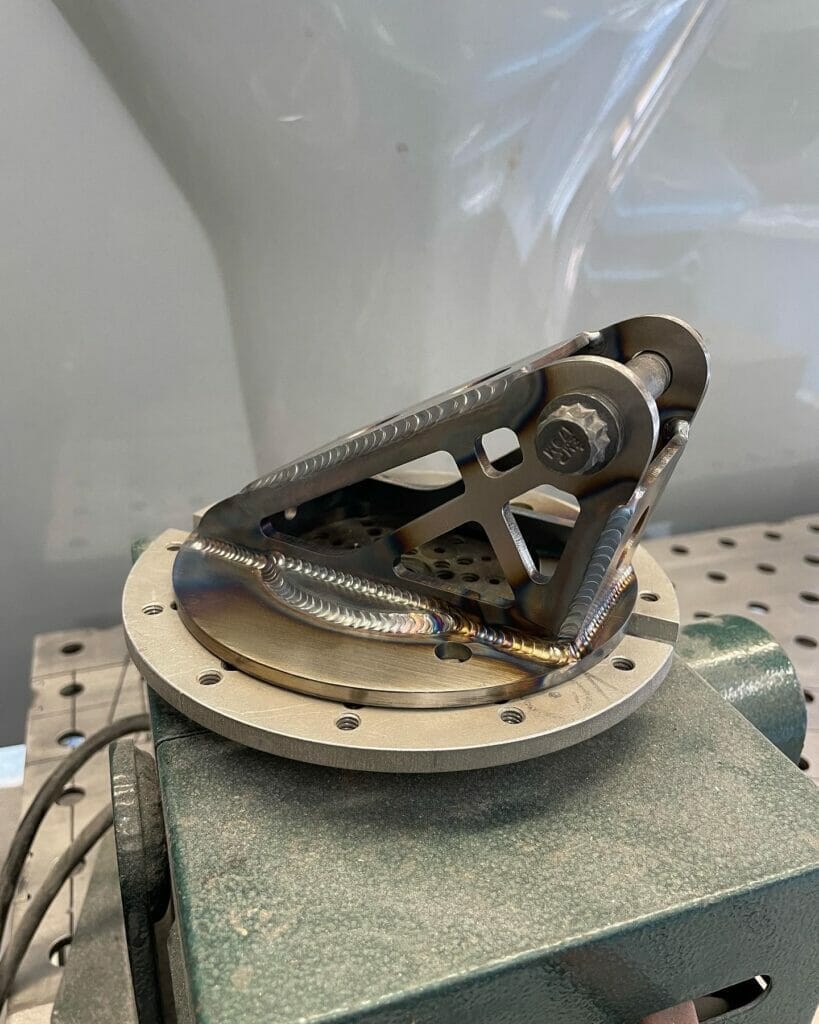 While all of Kyle's car projects contain over 100 custom SendCutSend parts, the '66 Corvette has already exceeded 200 SendCutSend parts and the car is not done yet. Although Kyle uses his own Co2 laser cutter, TIG welder, 3D printers, and manual machining mill to process some of his parts, the majority of his sheet metal and composite parts are laser cut or CNC routed right here at SendCutSend.
"I have the ability to do a lot of fabrication myself, but it's so much easier to save the time and just 'SendCutSend it.' Especially with the instant quote tool, I can see right away if I'm going to be able to break even or profit off the part and then easily decide how many parts I want to make at one time."
Kyle's 3 Tips for Using SendCutSend for Your Business
From products to custom parts, Kyle uses SendCutSend for every aspect of his business. The convenience of running as many parts at a time as he needs allows him to keep costs down for his customers and continue investing in his business, while leveling the playing field with larger, better equipped shops.
As a self-professed SendCutSend expert, Kyle has some advice for others looking to use SendCutSend to grow or start their own small business.
1. Learn CAD
"Learning CAD was the key to taking my business to the next level, and combining that with all of SendCutSend's tools and helpful tutorials helps me make sure every single part is going to be a success."
2. Use the instant quote tool
"The instant quote tool is a huge help. It's like a litmus test for all my projects, a go-no-go. It lets me change materials with the click of a button to make sure I'm within my budget, and I can know from the beginning if I'm going to make a profit off the part just by adjusting the quantity. I highly recommend that small businesses take advantage of this tool."
3. Just "SendCutSend" it
Kyle uses our services so much, he's turned us into a verb.
"My goal is to get people addicted to using SendCutSend just like me because it's game changing. Once you experience it one time and you see how simple the process is, it takes all the grunt work out of an otherwise labor intensive job. Just SendCutSend it!"
Keeping Up With Kuhnhausen
Kyle is working on some impressive cars, and you can be the first to know about all of it by following him on Instagram at @kckuhnhausen. Be sure to check out his shop for any tools or merch you may need at the "KMC Speed Shop."
We are proud to partner with guys like Kyle who are passionate about their industry and working on some of the coolest projects we've ever seen. If you are building something cool, we want to hear about it! Fill out a Partner With Us form and we'll be in touch.