We'd like to introduce you to Tyler Bell and Logan Teale. We'll show you how these two creative hobbyists are going from idea to reality with the help of laser cut aluminum, steel and stainless steel parts.
Inventive mastermind
Tyler Bell's creations range from hilarious to high-end. He's the mastermind behind the dish wiper — a windshield-wiper-based dish-cleaning machine that can scrape anything from spaghetti to beans off of dinner dishes in a split second. He also engineered the "home run machine," a baseball-smashing robot that swings for the fences every time.
But he's also built beautiful, full steel coffee tables and backlit 3-D steel signs.
Bell's wild creations are what many might consider a "hobby." The Seattle-based fabricator does, after all, have a day job building airplanes at Boeing. But take a look at Bell's Youtube channel or Instagram page and you'll see this is not everyman's definition of "hobby." He's more one-man fabrication and engineering studio than weekend tinkerer.
Using creativity to solve problems
Bell, like many other creators, inventors and fabricators, cannot contain his creativity within the working hours of 9-5. He returns home after work with wild imagination, extra energy and the impulse to create something entirely of his own design.
"Most of my projects I make don't need to be practical or commercially viable. The goal is to get people to think about solving problems differently and being creative," said Bell. Thus, the pneumatic bottle opener, or the gyroscopic cup holder.
Many of these projects involve intricate mechanical elements, as well as lots of laser cut steel and other custom cut metal. Pneumatics powered the "home run machine," a motor moved the "dish wiper," while a dynamite plunger was battery-powered. Armed with limitless creativity, impressive mechanical know-how, and a garage full of tools, there is only one thing missing in Bell's machine-building arsenal — a laser or plasma cutter.
That deficiency is easily overcome thanks to a partnership with SendCutSend, which assures his orders are expertly laser-cut by their online service, and quickly delivered, allowing Bell to continue dreaming up and creating the wildest inventions imaginable.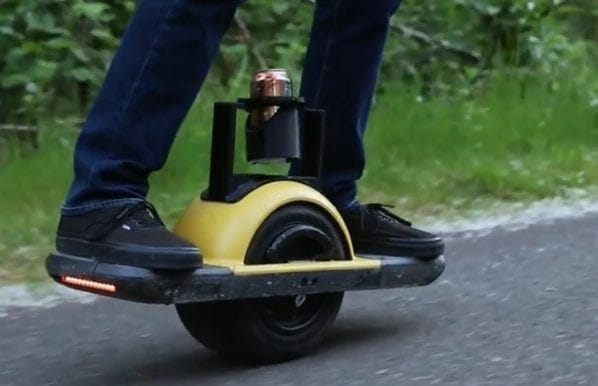 "SendCutSend is an amazing, easy to work with and fast service that has expanded my capabilities tremendously, especially considering that I don't have the space or money for my own CNC alternative like a plasma cutter," said Bell.
Master of tools
Bell is not alone in pursuing an increasingly consuming "hobby." Logan Teale, the head of Teale Designs, is also a full-time manufacturing engineer, but has found the time to start a full-fledged knife- and tool-building business on the side.
The inventive designs of each custom tool allows the small, beautifully crafted items to perform many functions, "from prying, scraping and opening bottles to screwdriving," says Teale.
"I take the blanks from a rough lasered part to the final product," says Teale. "I offer many design options to allow customers to pick exactly what they want and need."
What started as a side hobby has quickly turned into a busy-than-expected business.
"The tools were initially for myself as most tools out there I felt were overpriced for a working tool that you may damage in the long run," said Teale. "I made a couple, put them on Ebay and they sold pretty quickly. This evolved into an Etsy shop and my own Shopify website. I have only been operating for 1.5 years and have sold over 2,000 tools and utility blades," said Teale.
More than just a hobbyist
Teale's growing hobby-turned-side-business has continued to expand thanks to SendCutSend's rapid turnaround time that supplies him with the raw laser cut metals to custom-create each tool.
"SendCutSend provides a great selection of materials and a super fast turnaround time. I could not operate as efficiently or cost effectively without them. The pricing even allows me to do one-off customs for customers requesting something specific," said Teale. "I have been really impressed by SendCutSend's customer service from working with me on addressing any issues with parts."