Looking for a way to export a DXF for your flat part from SolidWorks? SolidWorks is a preferred modeling software for 3D designs, but we need 2D vector files to cut your parts. Saving the whole part as a .DXF will flatten all the outlines for the whole part and complicate the cut. But never fear! You can export the outlined face of the part exactly as it should cut by following this tutorial.
For guidance on how to export a 2D cut pattern from SolidWorks for parts that require SendCutSend's bending services, check out our SolidWorks 2021 or SolidWorks 2022 bending tutorials.
Let's begin!
First, check your export settings and make sure they look like this:
Exporting all splines as splines is ideal.
When you're in "Feature" mode looking at the part, right click on the face of the part.
Select "Export to DXF/DWG."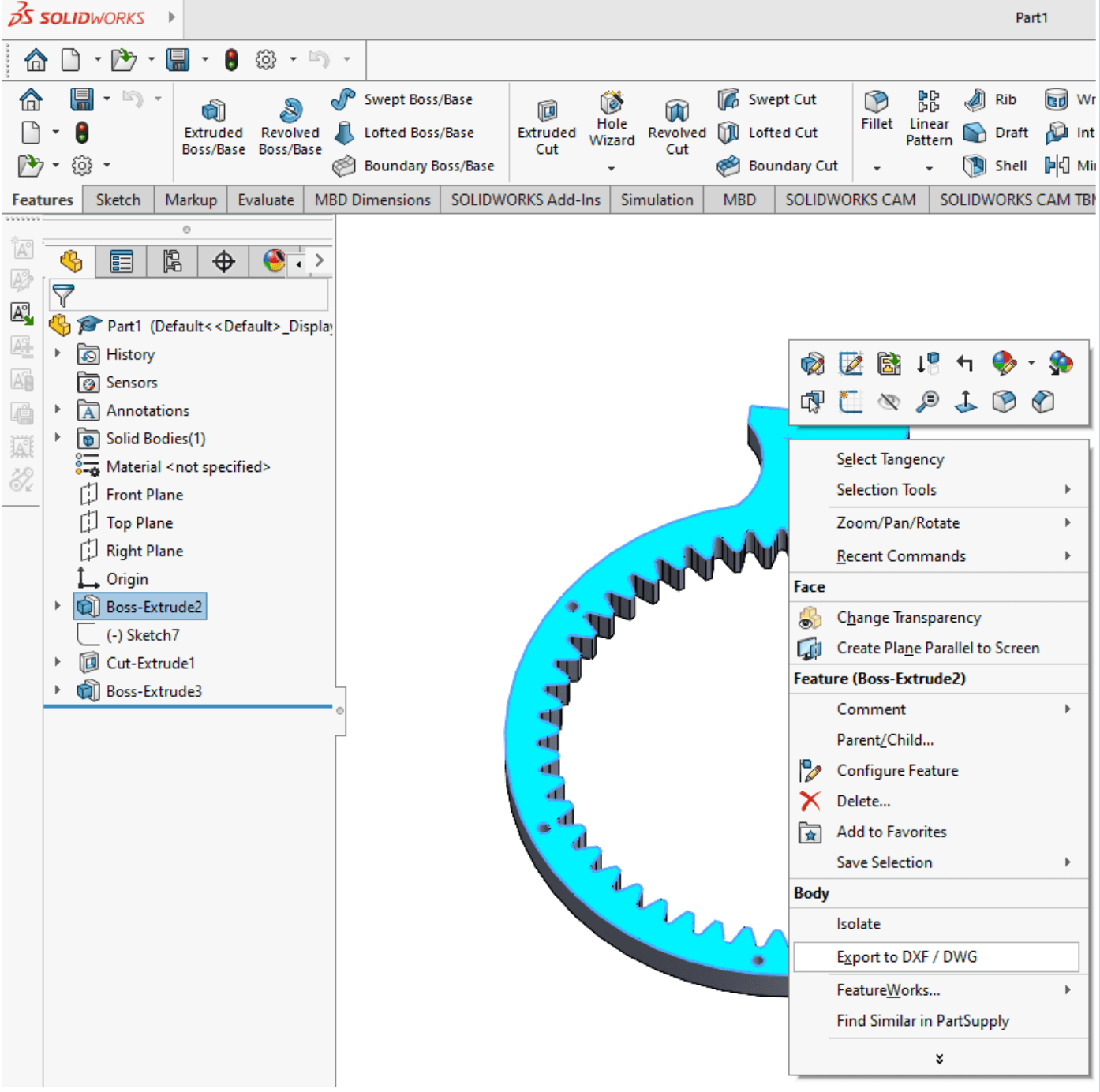 You may see a pop-up asking how you want to save your file. If so, just click "Save as copy and continue."
A save dialogue will pop up; name your part and select DXF as the suffix.
This will prompt a DXF/DWG Output menu to the left. Confirm that only the face of the part is selected, not the whole body. We just need the top-down "outline" view, exactly as you want the laser to cut it.
If that looks right, click the green check mark.
A preview of your DXF will appear. Double-check that everything looks right, click save, and you're all set!
Exporting to DXF from SolidWorks with these steps should give you exactly what we need without any extra lines. Then upload the file to our website for an instant quote, pick your material and quantity, and your parts will be on their way!
Skip exporting and try our SolidWorks Plugin
If you are using SolidWorks 2021 or newer, check out our SolidWorks Plugin. You can upload to SendCutSend and get live quotes without ever leaving SolidWorks.