Changing the email address for your account is easy. Here's how!
1. First, set up a free SendCutSend account if you haven't already.
2. Log into your account.
3. Click the dropdown arrow at the top right, then click Settings.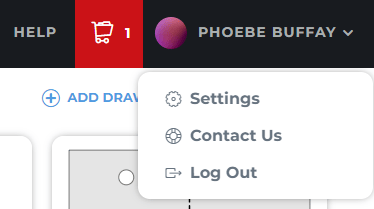 4. Set the Email to the address desired and click Save.
Please note: the contact email address saved here will receive order status updates. Order updates include an order confirmation email, a production progress tracking email, and finally an order shipment email with carrier tracking.
By default, the Username will be the email address used to create the account. The Username does not have to be an email address and you can set it to whatever you choose. The Username is used to log into your account.
If you have any questions about how to change your account's email address please reach out to our Support team at support@sendcutsend.com!
In Summary
How do I change the email address for my SendCutSend account?
You can easily change the email address for your account in your account Settings.