Keep these prep considerations in mind if you'll be painting or welding your metal parts!
Some metals ship with the "mill finish", a light coating of oil applied by the sheet metal mill that helps prevent corrosion and rust in transit.

For example, hot rolled pickled and oiled mild steel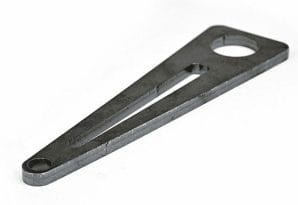 Metals that receive our free deburring service will have a light oil applied as part of the process. This also helps to prevent oxidation after your parts are shipped.
If you plan to paint or weld your metal parts after you receive them, you can use acetone to clean them up beforehand and remove all oils. SendCutSend does not offer a degreasing service since we don't want you to receive corroded parts. For expert tips, take a look at our in-depth guide on prepping different metals for welding.
Check out our finishing services to see if there's an option that could work for your projects! We offer anodizing, plating, and powder coating so most metal parts can be protected in style.