Have you ever needed a unique metal part to complete a design project?
Maybe it was for a machine, robot, or some other highly tailored build. More often than not, the part you need isn't available in your local hardware store. It has to be custom-made.
Waiting for a custom metal part to finish your project can cause a frustrating delay. Or, even worse, you may not be able to find the part you need and the project will stall.
If your project is related to your career or business, then a lengthy delay can have significant financial consequences.
What can you do? How do you find the unique metal parts you need?
With online laser-cutting services, the process of ordering and receiving the parts you need can be expedited, allowing you to pick up where you left off without skipping a beat. So, if you need custom metal parts, consider ordering them online and having them shipped to you in as little as 3 days.
Here is a step-by-step guide to help you get started.
1. Develop your design
Depending on your project, you will need to determine exactly what custom part you need to be produced.
One of the most valuable benefits of metal laser-cutting is you gain access to nearly unlimited potential in terms of what type of design you can turn into a tangible item. For example, you could develop a customized sign with your company's logo, replacement parts for antique machines, customized BBQ grills, robot parts, welding tags, medical instruments, house or apartment numbers, and much more.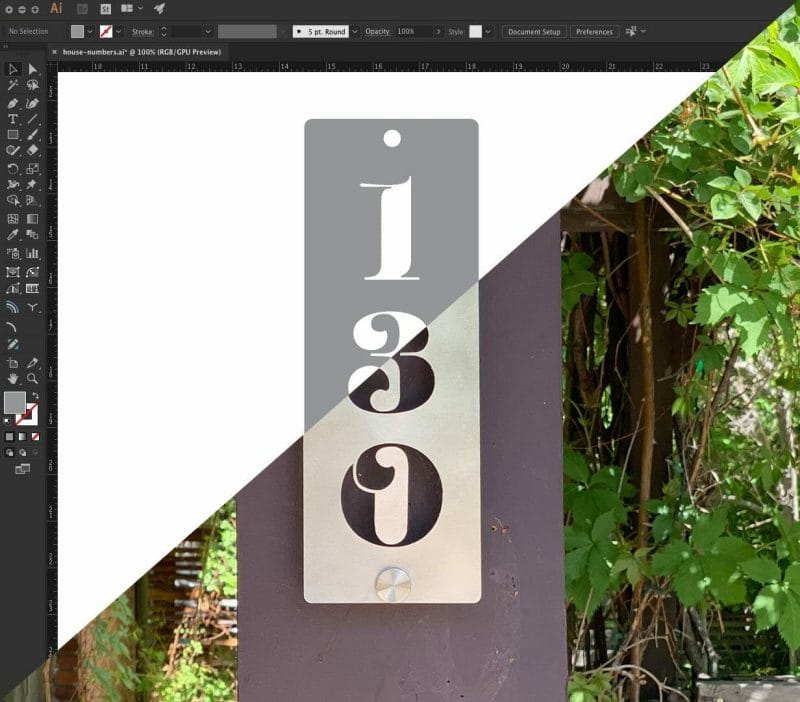 Once you've determined what item or individual part you want or need – transfer the concept into digital format by creating a file containing the design in the required size.
2. Prepare and upload your design file
If you have a design and you're ready to order custom metal parts online, upload your vector file to your laser-cutting service of choice.
You can upload your design in a variety of file formats, although the best option is to submit the file as an AI, DWG or DXF to get an immediate and automatic online quote. Other formats – such as EPS and STEP files – don't allow for an automatic quote, but you can get a custom quote quickly.
As you prepare your file to send in for your order, keep in mind your artwork should be correctly scaled to the exact size you want it cut. Additionally, your file should only include an image of your design and not instructions, dimensions, scales, and borders.
For each file, include only one copy of what you want to be cut, even if you need multiples. You can specify your desired quantity during the ordering process. If you have different parts to be cut from the same metal material, don't jam them too close together in the same file. Leave a safe amount of room between each individual image or part so the laser can cut the shapes effectively.
For more information about preparing your design file for laser cutting, see this resource.
3. Choose your material
Depending on your project and the part, you will need to choose the type of metal you want to use. With a service such as SendCutSend, you have access to numerous types of metals, from indestructible to malleable. During this step in the process, select your desired metal from a range of options, including:
1095 High Carbon Steel
4130 Chromoly
6061 Aluminum (Aerospace)
5052 Aluminum (Standard)
AR400
AR500
Brass
Cold Rolled Carbon Steel
Hot Rolled Carbon Steel
Copper
Cor-ten Weathering Steel
Stainless Steel
Titanium
Not only do you have choices about the type of metal, but you also can select your desired thickness for the part depending on its intended use.
4. Talk over the specifics
After submitting your design file, we will contact you with any questions about your order. At this point, you'll also get a more precise price estimate, taking into account exactly what you are looking for. Features that can affect the overall price of your order include the metal and its thickness along with the dimensions of your part and the design density. Intricate or detailed pieces take more time for the laser to cut, which impacts the overall price, too.
During this phase, you can also decide if you need other services, such as etching, finishing, and polishing, and choose to add these to your order. Then, once our manufacturing team has reviewed your file and clarified any issues, your order is sent to the laser for cutting.
5. Wait for delivery
Within a couple of days of finalizing your order, you can expect your parts to be shipped securely to your address – the average delivery time is 3 days. If you're in a hurry to get your parts, you can select an overnight delivery option but it will increase your shipping costs.
When ordering parts in steel or copper which are thicker than .135", there may be traces of oxidation on the cut surface, as oxygen is used as an assisting gas in the production process. You'll need to use a chemical process or mechanical method to remove the oxidation before you paint, weld, or plate the parts.
Don't wait, get metal parts when you need them
For many entrepreneurs, innovators, and manufacturers – time is money. Especially if you are working on a project that has a deadline or might impact your professional life, you can't allow the need for a custom metal part to slow you down.
By ordering metal parts online, with a laser-cutter like SendCutSend, you have access to an on-demand service which can keep your project on track for completion.